At all of 21 years of age, British cam model Harriet Sugarcookie is a quintessential geek. She's an art and media student, chosen because she grew up on comic books. She's into movies and board games and is an avid gamer.
"I like the games where you can get a big sword," Sugarcookie said. "I'm good at melee combat, but I suck at first-person shooters. I'm also pretty good at Ms. Pac-Man."
Another of Sugarcookie's favorite things is snack food.
"I've got this subscription to a Japanese snack box that gets delivered once a month to my house. Last month, they sent me these crisps — chips for Americans — that are apparently milk flavored," she said. "I've been too cautious to try them."
But though she may seem a geeky goofball on the outside, Sugarcookie is as multifaceted and savvy as they come – a strategic marketer, social media master, and siren on Chaturbate and MyFreeCams. Sugarcookie took some time out to chat with YNOT Cam about who she is, who she's become, and how to be you very best online.
Sugarcookie's path to webcam started on Reddit.
"There was a sub-forum dedicated to pictures of 'next door Asians' — basically, Asian girls with a more homey style," she recalled. "My housemate posted pics of me on there with my permission. I got some really amazing responses, which I just wasn't used to before.
"It was amazing, suddenly getting all this attention," she continued. "I started posting my own pictures, getting more and more daring with what I did. From there, someone suggested I try camming, and I guess I just never looked back."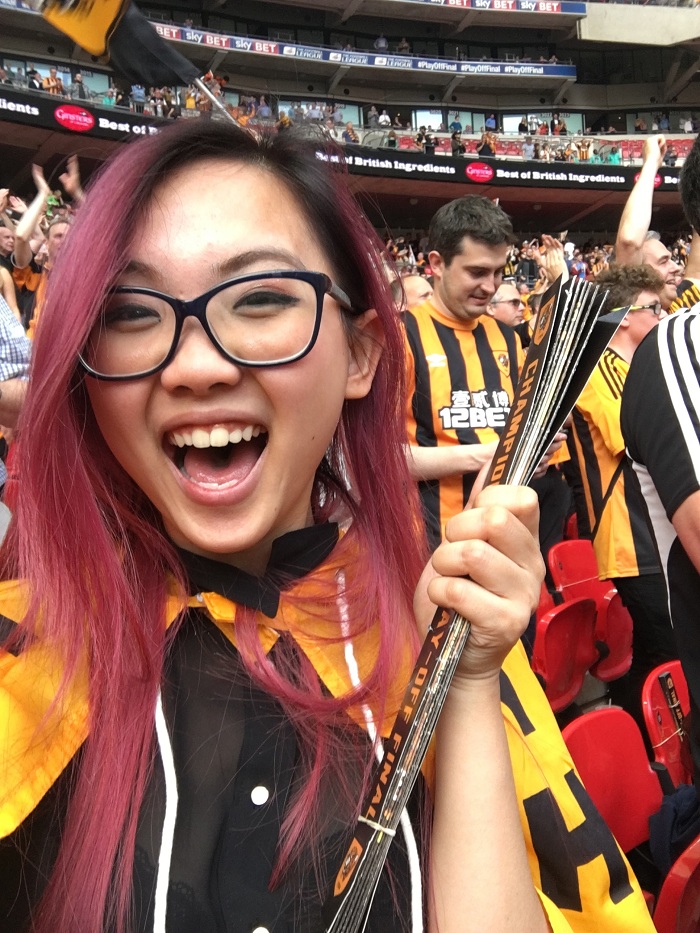 What's cam like for you today?
I love camming. It's really fun, especially when you build up regulars. I find myself missing the friends I make online when I don't cam. I'm most accustomed to MyFreeCams. It's where most of my friends are. I'm also experimenting with Chaturbate and Streamate. I find it really interesting how, depending on the platform, your room dynamic changes.
Where did "Harriet Sugarcookie" come from? Did she evolve as you spent more time on cam and in the public eye?
I mentioned earlier how much I liked snacks, and, well, I couldn't call myself Harriet Cheesy Doritos. I think the name is just really great at showing off my personality. I never really had to worry about who Harriet was, because she's me. If she's evolved at all, then that's because I've personally evolved.
Camming has made me a lot more confident with speaking to people. I'm less shy around men now too. I guess with Harriet, I wanted her to be able to speak out and say and do the things I've always been a bit too shy to before. Like in a camroom, I can be super open about things I like. I told people I watched hentai, the whole tentacle porn thing, and you know, before Harriet Sugarcookie, I would have died of embarrassment. Now it's like [the most outlandish has become ordinary] — like, "Yeah, you saw that episode of Monster Space Girls 3 as well?"
How much do you and Harriet have in common?
Harriet is much more energetic and can probably rap. In my camroom, we dance a lot. Stupid dances where I fall off the bed or get my head stuck trying to take my t-shirt off — very clumsy and a bit of a doofus. This is exactly me, but in my personal time, I'd also be more than happy to spend my entire day reading and drawing. You just can't really do that on cam.
Who are Harriet's fans?
I'd like to think anyone can be a fan of Harriet. I write a lot of different types of articles on my website. I get all sorts of people emailing me their relationship problems, so although I think my initial target audience were guys around my age, I've been getting emails from married couples in their 50s to lesbian women in their 20s. There is a [general] target market, and that's geeks like me — people who enjoy the things I enjoy — but I think Harriet appeals to everyone. I guess it helps if they have a thing for Asian girls too, though.
Visit Harriet Sugarcookie on Twitter at
@HSugarCookie
and on Instagram at @HarrietSugarcookie.