In various capacities, Riley Reyes has been in and around the sex industry since 2010 — but she's been an unapologetic kinkster for as long as she can remember.
Reyes grew up in Charleston, S.C.,  part of a big, loving family of educators. A self-proclaimed socially awkward nerd, Reyes excelled at her educational endeavors, attending a prestigious boarding school and eventually earning a BFA during her university years.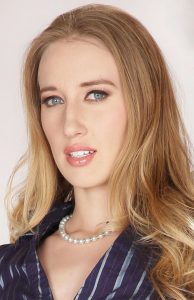 In college, Reyes came out of her awkward shell, discovering the polyamorous and BDSM lifestyles. She lived in New York City, working in creative production, but the on weekends she frequented Brooklyn sex parties. Eventually, she realized her alternative lifestyle was becoming a bigger passion than her art, and she made her way into the adult entertainment industry.
Today, Reyes' work runs the gamut from mainstream pornography and webcam to fetish and BDSM. She also taps heavily into her educator roots and gives back to the adult community via education, outreach and activism. She's the Vice-President of APAC (the Adult Performer Advocacy Committee) and volunteers with the Center For Positive Sexuality (CPS). She also teaches sex classes at swinger events and BDSM dungeons.
According to Reyes, her versatility is her greatest strength and has kept her career thriving. We asked Riley Reyes a few questions about what it's like to meld your passion for life with work and activism in today's adult entertainment industry.
—
YNOT Cam: What are some of the most noteworthy observations you have about working as a performer online?
Riley Reyes: Technology changes so fast that an online performer has to be very flexible. It's best to pay attention to social media trends and new platforms in order to keep your brand relevant.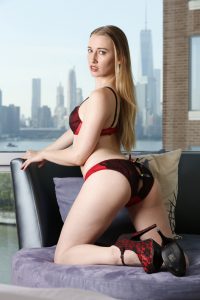 Also, marketing is everything. You can be an amazing erotic model, but if you don't cultivate your image and drive traffic to your site or chatroom, you'll just be a beautiful model in a void. Don't be afraid to promote yourself. And don't get discouraged by this brand-building process. It's a slow grind, but if you put in the work and provide a quality product, fans will come.
My favorite thing about working online is how empowering it is. I own my image. I own my brand. There is no boss telling me who I have to be or how to sell myself. I get the chance to define that through a direct relationship with my viewers.
At the end of the day, your biggest asset is your fans. Whether you are camming or producing custom content, they buy your products and promote your image. A personal relationship with your fans will carry you, even when other modeling gigs might slow down.
What has prompted you to get involved with performer activism over the years? Why should other models and performers care?
I've always been interested in labor rights, especially for all varieties of sex workers. I'm a principled loudmouth! But seriously, who wouldn't want greater rights and a better work environment?
I think it's vital that performers, camgirls, escorts, strippers and all kinds of erotic workers support one another's rights. It's easy to create divisions; to pretend we are superior to one another. But people on the outside will stigmatize us no matter what. To them, we are all whores. We are stronger if we stick together.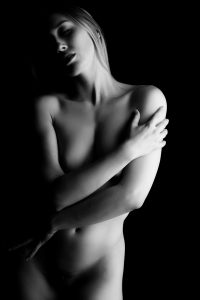 You recently signed an exclusive contract with iWantEmpire. Tell us about that.
I am their spokesmodel and exclusive to them as a clip retailer. This means I won't be posting new content to any other clip platforms while under contract. However, I can still perform freely in porn or as a webcam model. This contract gives me the security of guaranteed income, as well as the flexibility to pursue my own nonconflicting projects.
The website is also allowing me to consolidate some of my previously far-flung income streams. Now I have one vendor for clips, customs, items and phone chat.
I also love their brand and what they're doing with my image on their site. I have always enjoyed domination, but before this, I didn't get to do it on camera as often as I would have liked. With the luxury goddess persona they're marketing, I get to express that side of my personality. It's so liberating.
Outside work, what are you most passionate about?
I have always loved sci-fi and fantasy. I'll lose myself for days in a good book or an immersive video game. Lately though, I've been living at the gym. I always loved working out, but now I've found martial arts, and all I want to do is fight. It's refreshing to do a workout that is about physical ability and skill, not just trying to lose weight and look pretty. I get to feel truly strong.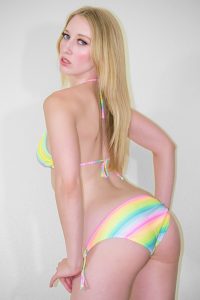 Human sexuality is a huge passion of mine, even outside of work. I teach classes on sex at swingers events, sex toy stores and BDSM dungeons. And I volunteer with the Center for Positive Sexuality, doing outreach and education to promote greater understanding of alternate lifestyles.
If you could change one thing about today's world, what would it be and why? 
I always tell people I want to live in a political idiom like in Star Trek: no nations, one human race, with everyone provided for under benevolent socialism. There is no need, with the wealth and technology and excess we possess as a species, for anyone to be lacking. The disparity [amongst humans] we see is a form of immense cruelty and senselessness.
—
Find Riley Reyes on Twitter at @RileyReyXXX and on Insta at @riley_loves_sex.
Erika is a sex positive people watcher (and writer). Email her at erika@ynotcam.com.