Tasha Reign is a renaissance woman for the 21st century.
An adult performer, clips model, media personality and writer, the sex-positive feminist shares everything from her sexcapades in the adult industry to her daily life as a self-described "mother of pigs" (she has two mini pigs) with a lighthearted point of view.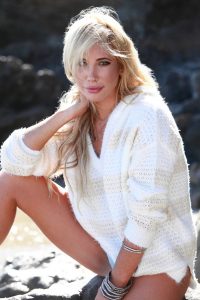 A former reality star (she was on MTV's Laguna Beach), Reign launched her career in porn in 2010 after posing for Playboy's "Girls of the Pac-10" issue (she has a degree from UCLA). The rest is history.
Reign is a vocal industry activist and performer advocate. She uses her porn notoriety to challenge the misconception of women's treatment and objectification in the adult business, and she works to inform the general public about the stigma women in porn face.
She has written many columns for Galore and the O.C. Weekly, has her own podcast, and recently had her first non-fiction story published – a chapter in Asa Akira's Asarotica. Oh, and she volunteers at an LBGT center in Los Angeles and partakes in the AIDS Walk annually, often coming in as a top contributor.
Tasha Reign took some time out to chat with us about what she loves about working online, her passions off camera and why it's important to stay vocal and active in today's industry and political world.
—
YNOT Cam: What are some "best things" about working as a performer online?
Tasha Reign: Working as a performer online can be very comfortable because there a safety net from within your own home. You never have to leave and can literally be an introvert regarding work, which I love!
I also love that there is so much money to be made from home. It is absolutely incredible how the adult industry has been evolving and now it is officially easier than every to be adult star from the comfort of your own bed!
What about downsides?
The biggest downside is the constant bullying and harassment online. It can be the cause of severe depression, or worse.
You are known to be very vocal in terms of performer rights and industry advocacy overall. Why should online performers care about political and business issues, both inside the industry and also in the wider world?
I know, I know — I speak up and voice my opinion all the time. I just can't help it. It is pivotal for all of us to unite, to speak up and to truly state our goals and desires. No one else will ever do it for you. If you want something, you have to ask for it. If you don't get it, try again.
Politically and business-wise, there will always be laws and practices that effect you the performer or model. You might as well make sure they benefit you! I have always been an activist. In 5th grade, I demanded we have toilet seat covers in the girls' bathroom. Today, I want to make sure the industry is a safe place for all of us.
You recently signed an exclusive contract with iWantEmpire/iWantClips. What does that entail? How is it beneficial for you?
I did! I am so incredibly grateful, excited and overwhelmed. It is a dream come true.
I shoot for iWantClips twice a month for my online store. They have allowed me to make videos that I hadn't had the opportunity to have shot elsewhere. I also get to be involved in signings and promotions.
They are all about the performer first. They want the woman to be in charge, to own her empire. Being a feminist, that really aligns with my goals. I am thrilled to have all my candid content and also clips in one spot for my Reigndeer. It's a way to make passive money while you work on living your best life.
iWantClips also has such a tight knit community, which is great when you need any questions answered. Other models would probably love working for iWE merely because the customer service and support are unsurpassed.
Outside of work, what are you most interested in and passionate about?
I love, love, love my mini-farm that resides with me in West Hollywood, Calif. I have two mini pigs, two Chihuahua mixes and one bunny. They are my world.
I recently bought my first condo and have a passion for fixing places up, so I am getting into that. I am interested in using my voice to create a better world. I am obsessed with being a vegan as it has changed my body and lifestyle for the better. Overall, working to be a better person is my #1 goal right now.
If you could change one thing about today's world, what would it be and why?  
I can't pick one… I would make sure that all of us had the same human rights and were equally protected by the law. Currently, we are not. I would also end homelessness and make sure everyone was educated about sex and consent.
For more information about Tasha Reign, visit TashaReign.com. Find her on Insta at @tashasreigndeer and on Twitter at @TashaReign.
—
Erika is a sex positive people watcher (and writer). Email her at erika@ynotcam.com.
Just for fun…