Vanessa Eve is the Director of Talent Recruiting for Streamate. She's been working with the network since 2009.
"I was actually in a different role in Streamate when I started," Eve explained. "I was in an administrative role and about a year into it, I was tapped by our HR manager who mentioned that they were thinking about starting up a talent division where we were actually recruiting talent in-house."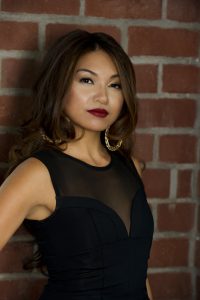 Up until that time, this sort of in-house recruiting was not the norm in cam. The idea was to cater to a segment of Streamate's customer base by making the site more appealing to North American models.
"When I met with [Streamate's owner], he was like, 'You know this is just a trial basis, we're not really sure what's gonna come of it or if it's really going to work,'" she recalled, laughing.
Today, Eve works with new and existing models, both in recruitment and support.
"The relationship doesn't just end for a lot of models, you know, as soon as they sign up and they join the network," she explained. "There's going to always be the residual question, especially if they've never done this before. Some models just need that extra support – like someone to walk them through their first show because they have no idea how anything works or what all the features are."
Vanessa Eve took some time out to explain a key issue many models have questions about: payout percentages.
You're taking a cut of my money… for what?
"There's this stereotype about networks and studios: that they recruit models but then sometimes don't really offer them anything on the back end. That they just take a percentage of [models'] earnings, and really there's no exchange of services there," Eve shared.
As a representative of Streamate, Eve felt compelled to legitimize herself and her services in the eyes of models… "So that models would know I'm not just here to, you know, make money off of you. That I'm essentially here to help you — not only to help our network, but to help models as well."
To these ends, Eve's strategy was to become an expert in Streamate's services, to work with models one-on-one and to figure out workarounds for every possible situation and contingency.
"That's the way I really learned our product – just going through sessions one-on-one with models. Sometimes it would be pretty trying if equipment wasn't up to par or their internet stopped," she explained. "We would have to find ways to troubleshoot around that, so each time that we set a model up for streaming, it was a different experience."
"I had to learn how to make our product work in different ways for each individual model," she added.
In addition to recruitment and support services, networks also provide the broadcast itself – from the hard goods and technology needed to make a network function to the human services that bring it all together. Because these are somewhat invisible services, it may be easy to forget how significant they are.
How much am I gonna get paid?
"Many models shop for a cam site based on payout percentages," Eve explained. "Some cam sites may pay out fifty percent, and I've seen some pay as high as seventy percent."
These higher percentages come with a double-edged sword though – because if a network is paying out a higher percentage, it may mean that they are spending less money behind the scenes on things that will enhance a model's chances of success.
"What many models don't realize is that, at the end of the day, we actually only retain a very, very, very small fraction of our cut," Eve explained. "The majority is going to constantly improving the product and technology and into things like traffic and advertising."
"The easiest way that I can spell it out, like if someone is skeptical, is that 'You can have your seventy percent payout if that will make you feel better, but if the network or the cam site is not providing anything for you — not providing traffic and maybe the quality of the product sucks and there are a lot of technical issues or there are no features that also help you monetize in other ways — then seventy percent doesn't mean a whole lot.'"
Another dimension to be mindful of is the percent a studio itself is getting from a larger network. For instance, if a studio offers a ninety percent payout, but they are only getting a percentage of member dollars spent themselves, then models are getting paid out of that portion – not out of the dollar as a whole.
Streammate has an entire support division — Streamate Help – that's dedicated to models. You can login, look up information and view guided tours about the site. For some, it's easier or more effective to walk through issues and questions in real time, but others really learn well from documentation – and it's there!
—
Vanessa Eve is the Director of Talent Recruiting for Streamate. Find her on Twitter at @StreamateModels and online at streamaterecruiting.com. Read her model support blog posts here.
Image via Alexander Kalina.