Bunni Button has been working in the online adult entertainment industry for almost three years, starting at age twenty five.
She shared something so interesting about her background with YNOT Cam that it requires being showcased via a list:
1. Bunni Button a natural born performer who attended a performance arts high school.
2. She's an amazing dancer and has taken lessons for many types of dance — from ballet dancing to traditional dance African and everything in between.
3. She was a competition clogger for twelve years.
Let me repeat that: A competition clogger. For twelve years!
There is nothing more I can say about Bunni Button that can surpass this information. Read on to learn more about this quirky and sweet lady who's always looking to expand her horizons with new friends, new goals and new adventures.
—
YNOT Cam: What did you do before you worked online?
Bunni Button: I always tell people that I feel like I went about finding my place in the adult industry in a very natural way…
Step 1 — I became a Hooters Girl as soon as I turned eighteen, which led me to… Step 2 — Becoming a dancer after talking to a fellow Hooters Girl about how much she loved it. She quit Hooters shortly after, and I followed! So, I started dancing at a local club. I loved it, but I quickly realized that I could be doing the exact same thing at home in front of a camera, so I hopped on over to… Step 3 — I started researching camming, learned everything I could and jumped in head first at twenty-five years old. I'm now living out my American (wet) Dream!
Your name is adorable! What's the story behind it?
This is my favorite question because my name is so special to me! I have had a lifelong obsession with rabbits, and one of my favorite books as a child was titled Bunny Button. I checked that book out from my elementary school library so many times that the librarian gave it to me as a gift at the end of the year. So I decided that would be my name, except I switched the "y" to an "i" to avoid confusion.
I'm awake! I'll be on @stripchat & @MyFreeCams soon, I've missed yall too much ? see yall in a bit! pic.twitter.com/ZT78VRWRIu

— ?Bunni?Button? (@SumBunniLuvsU) June 4, 2019
I see on your StripChat bio that you're from Savannah, GA. Do you still live in the south? How is that, both in general and as far as working in the sex industry?
I do still live in the south! I love the south. I could never imagine living anywhere else. We have it all — mountains, beaches, lakes, you name it. The only thing that kills the vibe would definitely be closed-minded people.
I've lost so many friends over my ventures into sex work. Pretty much all of my close friends disagreed with my decision. Friends I had had since high school suddenly looked down on me, but something in my gut told me to let them go. Better things were coming from my jump into this industry — and better friends too!
You wrote that camming has changed your life so much – how so?
Coming from such a small town where almost everyone has high religious morals, it was hard for me to explain to my friends why I chose this career. It was like nothing I said could change their minds about my decision. When I told my best friend, she told me that I was throwing my life away. I was labeled "that girl" in her book, she made that very clear.
After losing all of my friends, I kind of became a hermit and shut myself off from the "real world" and focused on my career in camming. I had a hard time letting go of the people I thought would always be in my life because I knew that if the roles were flipped I would be supportive of their choices, and I couldn't understand why they couldn't be that way for me. But through this industry, I have met some of the most amazing people — models and fans! I now have a group of very close friends who I talk to every day, who don't judge or pick apart my life choices.
If not for camming, I would have never had the chance to meet my best friends.
Voting has begun! Help your playful lil bunbun out & vote for me for Most Playful Model in the @YNOT_Cam awards!

? https://t.co/DZ68xrOAim ? pic.twitter.com/M0WrwMTE32

— ?Bunni?Button? (@SumBunniLuvsU) June 17, 2019
Gosh, that sounds so hard – but also like you are doing well with the shift. What about cam work itself? What are some highlights?
For me, the biggest highlight about working online is meeting new people. I've learned so much about different countries and cultures from meeting people from all over the world. I learn something new every time I log into my cam room. I tell people all the time: "I've hardly been out of the south, please educate me!"
It seems like a super interactive place in your room. Like, please tell me more about this '90s trivia I see on Twitter?!
Themed trivia night is my new obsession! The '90s trivia night was a huge success. Everyone loved it. We had fifty cards filled with '90s pop culture questions, and it made everyone really miss the '90s. It was like every card reminded someone of a story from the past,
I absolutely loved hearing everyone's take on "the good ol' days." I'm thinking '80s trivia night next?
Come show off your 90's trivia knowledge and win flashes & prizes this Saturday night on @stripchat & @MyFreeCams! pic.twitter.com/LjMR2u6267

— ?Bunni?Button? (@SumBunniLuvsU) June 13, 2019
Outside of your career, what are you most passionate about?
The goal is an ostrich farm! I've wanted to have my own farm for practically my whole life and just recently started learning about ostrich farms.
I've always had a passion for caring for animals and ostriches are some of the weirdest animals out there! Did you know they eat rocks to help digest their food? Weird, right?! One day I'll be trotting down the red carpet of an award show on the back of my ostrich…
What is your greatest wish for humanity?
I wish everyone could live by the Emerson quote, "Nothing external to you has any power over you." I think we all tend to focus on things that ultimately don't matter in the long run. Not one person knows why we are here or where we're going, so we all just need to relax and enjoy the ride. Light a joint, peep some scenery and stop bitching!
Find Bunni Button on Twitter at @SumBunniLuvsU.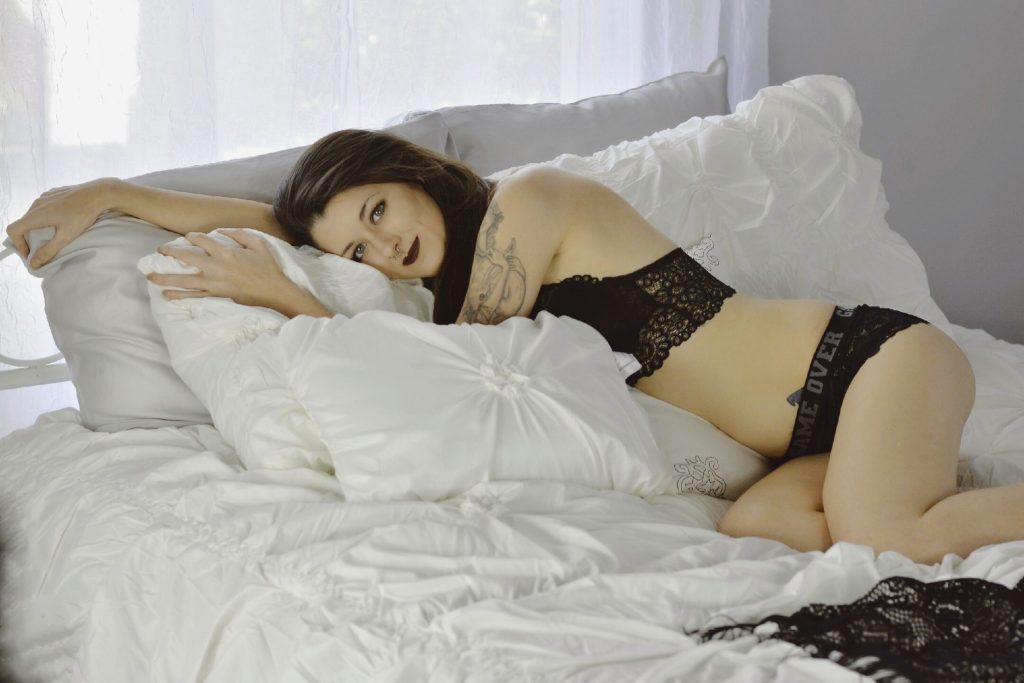 —
Erika is a sex positive people watcher (and writer). Email her at erika@ynotcam.com.
THIS below is competition clogging, and I can't even right now with how cool this is! (I actually don't know if it's "legit" cool. I know nothing about clogging, and this was just from a fast search. It blew me away, but people in the know might have a better example. In my view though, these cloggers are good!)