Violet Doll's long lashes fluttered open, her eyelids kissed by tropical sunshine that filtered through the window one morning on a birthday a few years ago. She had retreated to an island so remote and unspoiled that she refuses to divulge the name for fear tourists will stampede it. She's not sure how much it cost her subbies to send her there but has always assumed it was a lot.
"I stayed on a private island in a bungalow suite that had its own beach and hot tub," she shared. "Waterfront property all to myself, and I booked spa treatments daily. On a day trip, we took a boat to another island nearby that was even more remote and had a picnic. The whole trip must have been several thousand dollars total. The bungalow and flights were paid on my slave's credit card, every other expense was reimbursed by another submissive client."
And so it goes for a leading findomme — a dominatrix who specializes in making submissives pay. Literally.
"Let's fuck your life up!" reads one of Doll's Twitter posts, as she seeks out more generous pay pigs who get off knowing they're making her life awesome and at great expense. For her, becoming a findomme seemed like a natural fit.
"Way back when I did vanilla sex work, submissive men always seemed attracted to me," Doll said. "Probably because I was a bit of a bitch, with a naturally dominant personality."
"I participated in financial domination well over a decade ago, before I even knew it had a name," she continued. "I never imagined it would become such a big part of my career, but it's always an aspect of every domme/sub relationship I'm in. Wealth is power. A client handing over their money to me is empowering."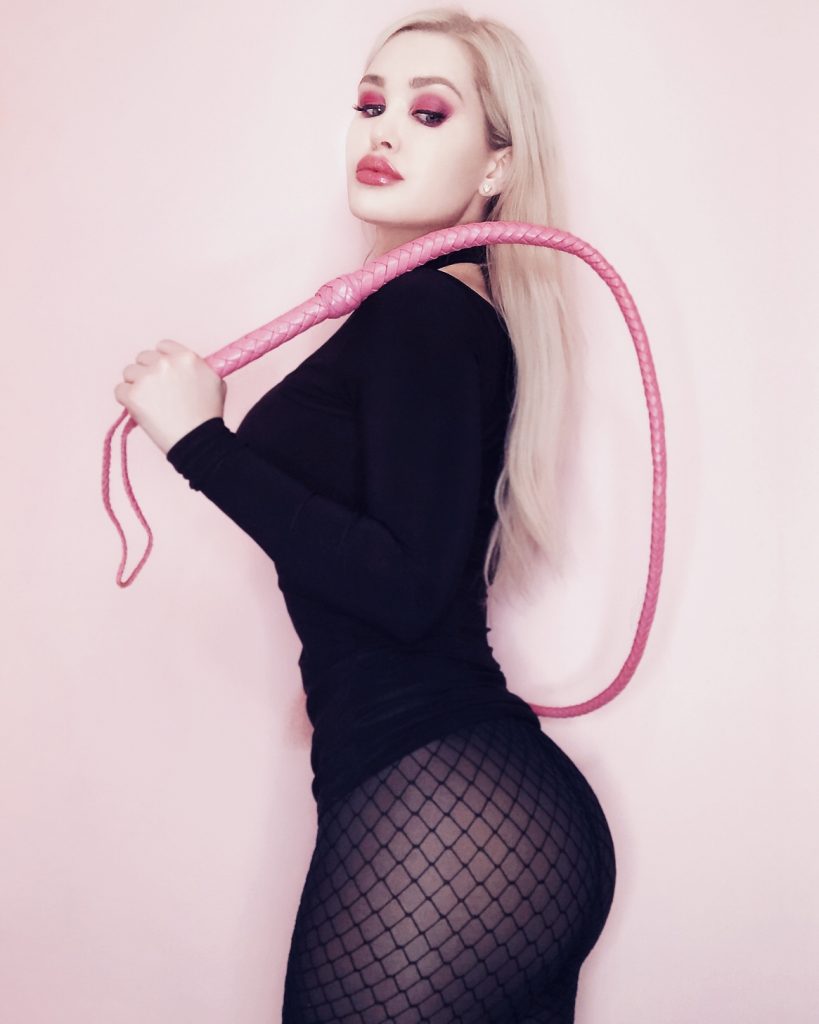 Findomme work isn't anything new, but its popularity is blossoming.
According to Google Trends, financial domination is a niche interest compared to other fetishes. Bondage and foot fetishes — both of which, by the way, might also be enjoyed by paypigs — for example, attract a wider online audience. But it's a growing category.
Financial domination was little sought after, at least in Google, until 2008, and has become increasingly well-known in the past decade — eclipsing the interest in small penis humiliation back in 2014 and obtaining a bigger audience than ever in 2018.
Still, the submissive who is serious about findomme is rare. Talented findommes are rarer still.
"You have to know when to push and know when to ease up," Doll said, when asked if there is such a thing as asking for too much.
"The art of seduction is so relevant in financial domination. People think it's all about demanding money and posting #findom in tweets, but that couldn't be further from the truth," she explained. "It takes skill, patience, self-control and a special understanding of the kink. I'm not just interested in financial domination. I enjoy many aspects of the BDSM world, both professionally and privately. I think that's necessary to have a long-term career. Being a bratty teen that makes a Twitter and decides to be @PrincessMoney69 overnight isn't gonna cut it."
The findomme path is a hard one. They are constantly scorned. The oldest findommes — at least, the ones that can be found online the longest — date back to the '90s. It's as easy to find posts, and even entire websites, from their detractors. But for those who can stomach the risks and the criticisms, a very lush and luxurious life awaits.
I enjoy dancing on the fine line between dream girl & worst nightmare. pic.twitter.com/EBuqpZGwv0

— Violet Doll (@VioletDoll) November 11, 2019
Doll is enjoying the delights of her new bi-level penthouse suite, which has been largely financed by subbies, where she can enjoy foot rubs by her fireplace.
"I already own multiple properties," she said. "Including my paid off home. I'd be really impressed if someone bought me a new home, or at least gave me the down payment in full. I want more land and a big greenhouse because I love to garden."
With her paypigs, as with all things, she is unabashedly selective. Just like it takes a lot to be an excellent findomme, not just any submissive gets to be her subbie. There is a right way for men to apply — and some very wrong ways, too. Unsolicited nudes are never welcome, but tributes from new subbies certainly are. From there, how she treats them depends on who they are and how they act.
"It varies so much with each client, as they vary so much as individuals," she said. "I might have certain rules, but my protocol as far as interaction and expectation isn't set in stone. I have friendships with many of my subs, but they still respect me as their domme. I can't let them get too comfortable, but we also have normal human conversations."
And they are good friends indeed.
Investment property and a luxurious penthouse aren't all they provide. One of her subbies keeps her stocked up on the latest in consumer electronics, including the latest iPhone. Her home is replete with the latest of everything her paypigs' money can buy, and her shoe collection is so big that she frequently has to re-sell the footwear that they gift to her — which she says can turn them on even more. And, of course, there's the travel.
"Last summer I had a great girls trip on St. Pete's Beach in Florida with my best friend Breton MacQueen," she said. "We stayed at a gorgeous pink hotel that looked like a castle on pure white sand. Everything was absolutely perfect. Amazing breakfast-in-bed room service every morning, out shopping during the day, the most beautiful sunsets with dinner each evening. We were on the beach until 5 a.m. some nights, and there was a meteor shower with so many shooting stars we lost count. It was like a dream."
—
In "Bougie Babes," Sammy Shayne interviews well known members of the adult community about how they enjoy their earnings in opulent and luxurious ways. Are you a bougie babe? Email sammy@ynotcam.com  to share your story!