"I was one of those little girls that dreamed about being a ballerina, and I actually did it," Peppermint shared. "From a young age I studied classical ballet and lived in New York City for ten years, where I danced professionally for various companies. It's a funny irony that I'm still performing to this day — but in a very different way to an entirely different kind of audience!"
Interestingly, irony does not factor too overtly into Peppermint and Dusty's online world. Their space is shaped by intimacy, authenticity and the desire to help others reach for something similar in their own lives and relationships.
Peppermint and Dusty are both in their forties and have been working in the adult industry since the beginning of 2016, when they did their first show on Chaturbate. Prior to their online career together, Dusty ran safety and quality assurance programs for heavy industry spaces (think railroads). He does also have a background in theatrical management and set design though, providing in interesting point of connection with Peppermint.
In addition to both having artistic backgrounds, both Peppermint and Dusty are also fairly gnarly thrill seekers.
"I'm a bit of an adrenaline junkie and love challenging myself by trying and learning new physical activities," Peppermint shared. "I may be tiny, but I am very mighty!"
And Dusty was a member of a search and rescue/recovery dive team in swift water and ice rescue for several years — goddamn! "I enjoy doing track time and super bike schools," he shared.
But far more significant than anything — or perhaps, the most significant factor in shaping both Peppermint and Dusty — are each other. Read on to learn more about intimacy and finding ways to share that with the world via cam and other work online.
—
YNOT Cam: What prompted you two to begin your careers online, together?
Dusty: Mainstream porn has placed a lot of unrealistic expectations in the minds of viewers and has led to an objectification of people in general, which leads to greater performance anxiety. I wanted to show a healthy respect for relationships, communication and the respect for one another as individuals through our own cam shows.
I've always been somewhat of an exhibitionist, whether that being skiing down the lift line of a mountain or riding my motorcycle through canyons, so the online platform has allowed a way for me to express that and at the same time encourage others to have a more positive body image about themselves.
Speaking of positive body image, I lost a testicle in a major accident. As my doctor told me, "That's why God gave you two," which occasionally comes up in our chat room. So, having a greater acceptance, understanding and appreciation for my own body allows others to be more comfortable about their body.
Peppermint: When we were making love, we would often catch glimpses of ourselves in the mirror and get really turned on. Thinking that if we found ourselves appealing, others might too, we considered submitting videos to Make Love, Not Porn. We resonated with what Cindy Gallop is trying to represent, with real couples sharing their sex lives, thereby bringing more diversity to the world of porn. For various reasons, this wasn't quite the right platform for us.
In November of 2015, Dusty approached me about doing live shows online. At that time, I had no idea that live sex webcams were a thing. I did a lot of research by watching cam sites and felt that Dusty and I would have tons of fun doing this, as well as bring a unique approach and experience with our Tantric philosophy and our maturity. On many occasions when Dusty and I were out dancing, at a party or concert or otherwise just interacting with each other, people would tell us how beautiful it was to witness our love. We feel so strongly that the world needs to see more love, more affection, more genuine connection and more authenticity and that these things are lacking in a lot of sectors of the adult industry.
We felt called to do our part in helping change that by doing live cam shows and letting the world watch us in our most intimate moments.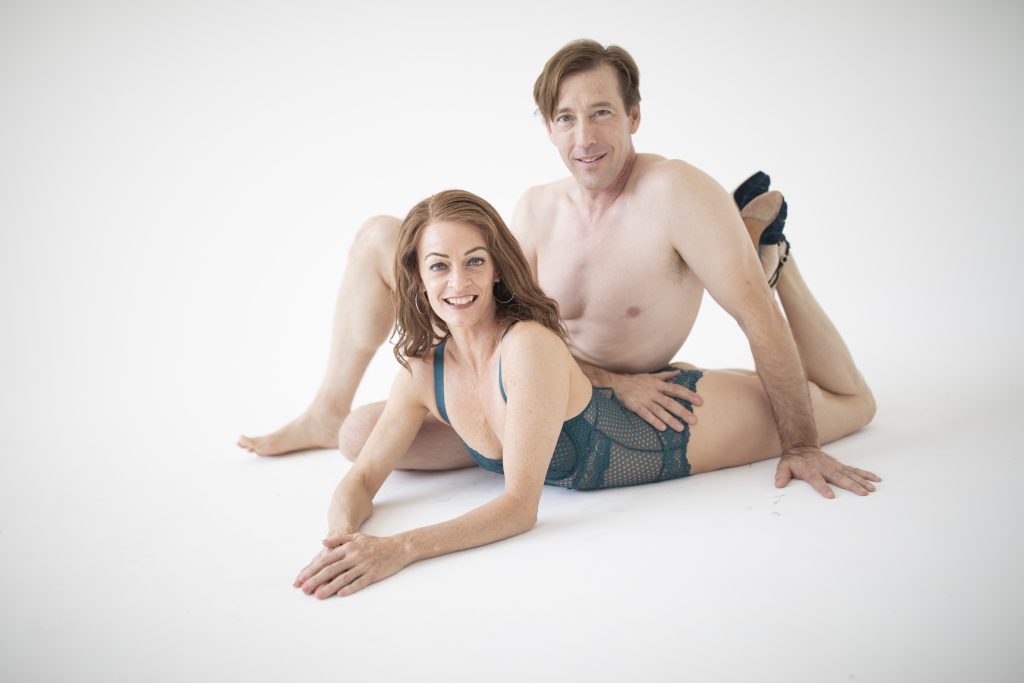 What are some of the best things about working online? What are some challenges?
Peppermint: We love the spontaneity of live shows! Even though we set goals for the room, we never quite know where our shows will go. Our loyal viewers truly appreciate our authenticity and the genuine connection we have with each other. Knowing how grateful people are for seeing such a beautiful example of a loving relationship is incredibly rewarding, especially in more lucrative months when we also see that reward financially. I've noticed that income for online work can fluctuate greatly so I personally have to keep myself focused on the bigger picture. During slow days or weeks, it gets challenging to stay motivated, but Dusty always reminds me that we have a greater purpose in the work we do online and to stay in alignment with that.
Through working online in the camming industry, I feel that we get a fascinating glimpse of human behavior. We get to see a very private, intimate side of people's thoughts, quirks, fetishes, turn-ons and societal conditioning — those things they normally feel they have to hide or keep secret. There is a great deal of trust placed in us. Cam rooms create a virtual community where people feel safe to share and be accepted, so we have to maintain a positive environment for ourselves and our viewers to avoid burnout.

Dusty: Some highlights for me have been getting to speak on a panel at the YNOT #Cammunity event in August 2019 and our being interviewed by ABC's Nightline in May of 2017.
One of our goals when we first started camming was to be recognized for just being ourselves. Having the opportunity to sit on discussion panels, share how camming has inspired us, affected us, made us grow, humbled us and through that inspired others has been a touching and rewarding experience, and I look forward to doing more of it in the future.
Nightline sought us out and interviewed us because of our genuine connection as a couple and the authenticity of our relationship inspired them to feature us in their segment on camming. That interview, us being us, has now inspired many cammers, especially couples, to say "Damn, we could do that!"
It's a humbling experience to have someone come into the room and share with you things they can't even share with the ones they trust most. Those comments and words of recognition help motivate when you have an evening or week that's slow financially or have some nasty, mean, rude, sick, twisted remarks that can really cause you to question humanity and why you're putting yourself out there in such a vulnerable and literally exposed way.
As a couple that works together in an intimate type of labor, how do you balance work life with personal life? What is your most important advice for other couples looking to work together in online sex work?
Peppermint: For us, the most important factor in working together as a couple, both online and offline, is knowing that we are on the same team and always have each other's backs. We constantly communicate openly and honestly in every area of our lives and know that our relationship comes before any other task or commitment. If one of us is going through a challenge, feeling off or needs some support, we prioritize that above and beyond going online or shooting content. After all, in such an intimate line of work, those feelings and emotions come across to the viewer, so you have to be in the right frame of mind.
We also make sure to have plenty of offline time together, not only to work on the background parts that go into our business but to cultivate the magical connection that our viewers are lucky to see.
Dusty: Peppermint and I both do other work besides camming, and it's imperative that we're there for each other in those moments as well. Part of it comes from our Tantric philosophy of being balanced in life. There's understanding, appreciation and mutual respect in our relationship that allows us to communicate our needs or fears in a gracious, genuine manner.
Our days start and end with "making love," which can be nothing more than a simple gesture and having no more or no less expectations than the genuine expression of love and taking or receiving it with that in mind. In my option, our success as a camming couple comes from understanding and appreciating each other's limits, being able to merge our strengths and weaknesses to enhance the whole, to be humble when our own judgement is lacking and to trust that the other's support, assistance and guidance is in our best interest. I know that Pep has my back unconditionally when we are camming. If she sees, hears or feels something that is not in line with what we want to show or express, I listen to her regardless of my ego because I trust her emphatically with all aspect of my life and my psyche.
My advice to cammers is truly appreciate one another. Understand the true uniqueness that exists between a couple that can cam together without coercion or manipulation and choose to do something that can be lucrative and inspiring, yet possibly destructive. Your relationship should always be at the forefront of whatever you're doing while camming — and that should also be an aspiration off cam as well.
What you put out there is what others see, whether you're aware of it or not. If you go online with a bad attitude toward one another, no matter how hard you try to cover that up, it will show through. Camming is a job. Your attitude and philosophy toward camming determines whether it remains a job or becomes a career. That decision will determine the inspiration you have with what you do and how you inspire others whether that be your partner, other cammers or those that come into your room and stay and become fans and friends.
Happy Sunday Bum Day! Come play with us @chaturbate https://t.co/zj3tY9UJdP pic.twitter.com/uvVEMJX2ZE

— Peppermint and Dusty (@PeppermintDusty) January 12, 2020
What is tantric lovemaking, and how do you showcase it in your work? 
Peppermint: In a nutshell, Tantric sex is a philosophy that honors the divine creative energy that resides within each of us and uses sexual exploration to celebrate pleasure as our birthright when the mind, heart, soul and body of masculine and feminine join together as one. Because this philosophy guides our lovemaking, everything we do comes from an intention of joy, playfulness and adoration of each other.
Many times viewers have commented that the intensity and passion between us is palpable, even when we glance into each other's eyes lovingly. Some viewers have told us that from watching our cam shows they've been inspired to communicate more openly with their partner, to ask for and try things that might be new to them sexually, to slow down a bit and enjoy longer foreplay to prolong their sexual experience — all of these things are so heartwarming and rewarding.
Dusty: Tantra is a balance similar to that of the yin and yang rooted in open expression and communication. That being the trust and faith to share one's fears, needs and desires without judgment but with respect and thoughtfulness of your partner.
It comes out in our cam shows through questions others ask us and the playful games we play while online or in our sexual interaction. It is expressed in a kiss, a gaze or in the simple expression of  a genuine "I love you Pep" in front of thousands of others watching us as I look up at her from between her thighs. It is showcased in nights that we demonstrate actual techniques or produce a video like "Candlelight Tantra."
The power of our Tantric practice even amazes us sometimes when we become so lost in one another that even the tip sounds are drowned out by the connection of Pep and I in the moment. When we return to the chat, we see an outpouring of beautiful comments that we have to scroll through and catch up with. I can't even express the quivers and shakes I experience before, during and after an orgasm with Pep whether we are edging one another for hours or fast approaching the climax of a day of camming with a soul shaking orgasm.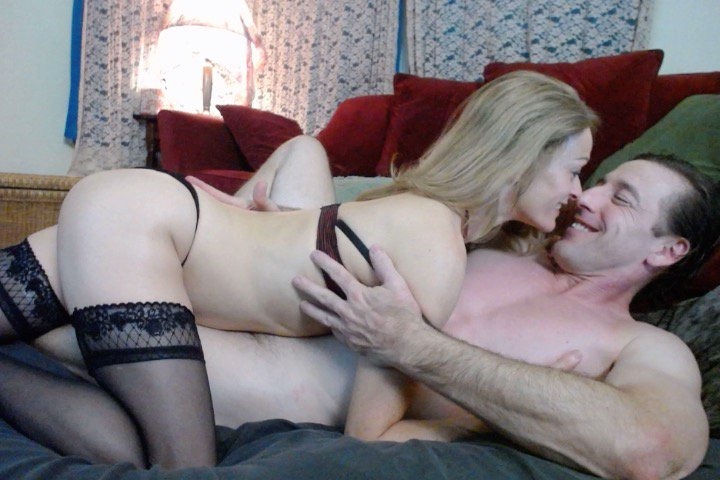 Outside of work and maybe each other, though it's clear you both are deeply intertwined, what are you two most interested in?
Peppermint: I'm passionate about taking care of my body physically, mentally, emotionally and spiritually. I think movement and activity is extremely important in maintaining my health, especially as I get older, so I stay strong by doing yoga and pole dancing (sometimes online).
I believe in nourishing my body with good, real food so I like to cook, but I also strive for balance in all things so I don't mind indulging a little too. Lots of water, sleep, time outdoors and a positive attitude contribute to helping me feel good and living a healthy life. I love going camping with Dusty, going to music festivals together and dancing under the stars, creating special memories that will last a lifetime.
Dusty: I enjoy taking my ideas and concepts and turning them into business models so that I can help people, taking something that's intangible and making it into something tangible. Sport bike riding creates a mediative state that I have to be completely focused and remove outside distractions. The moment you become one with the apex of every turn you enter and exit creates a zen-like state for me.
I am passionate about philosophy of life, of one's place and how that intersects with my relationship both with Peppermint and those outside of me, including on cam. I love being out in nature, even at a music festival, and enjoying the serenity of being around trees and water. I do my best to live with integrity and show up for those that I care about. Being a water sign, I love swimming, snorkeling and scuba diving. While exploring the world underwater, sea life has approached me in a playful manner. I've always had a great love for animals and find that they're naturally drawn to me.
#yoga and #poledance practice time on @chaturbate https://t.co/zj3tY9UJdP pic.twitter.com/Bhxk33m5pz

— Peppermint and Dusty (@PeppermintDusty) January 9, 2020
If you guys could change one thing about today's world, what would it be and why?
Peppermint: One thing I feel would have a tremendous impact on the world in a positive way is if we could collectively, universally heal our wounded beliefs and attitudes around sexuality and see it as a completely normal, beautiful part of the human experience. I long to live in a world where everyone embraces and celebrates the joy of being in a human body that can experience infinite amounts of pleasure, regardless of how we like to express and explore our sexuality, where no one judges anyone for what they want, like, dislike, who they choose to love or what they look like.
As sex workers, I feel we are slowly helping to change that tide as more of us choose this line of work, speak up, become visible and take pride in what we do.
Dusty: I believe we're doing it through the camming platform, for however long that lasts. We've made an indelible mark on those that come into our cam room, which is what I hoped we'd accomplish when we started camming: inspiring others to seek a more intimate relationship, a greater appreciation for their partner, to seek a stronger communication with those that they choose to interact with both in the bedroom and outside of the bedroom, which creates an environment that has less strife, less anxiety and allows for more intimacy through compassion for one's self and others.
Our camming is a glimpse into our life and not a "show." In the last few years, the camming industry has influenced the porn industry in a positive way. The diversity in shapes, ages, sizes and sexual orientations has allowed many non-traditional performers to find a lucrative market of expression that would not have been promoted in years or decades past.
Find Peppermint and Dusty on Twitter at @PeppermintDusty and on ManyVids here.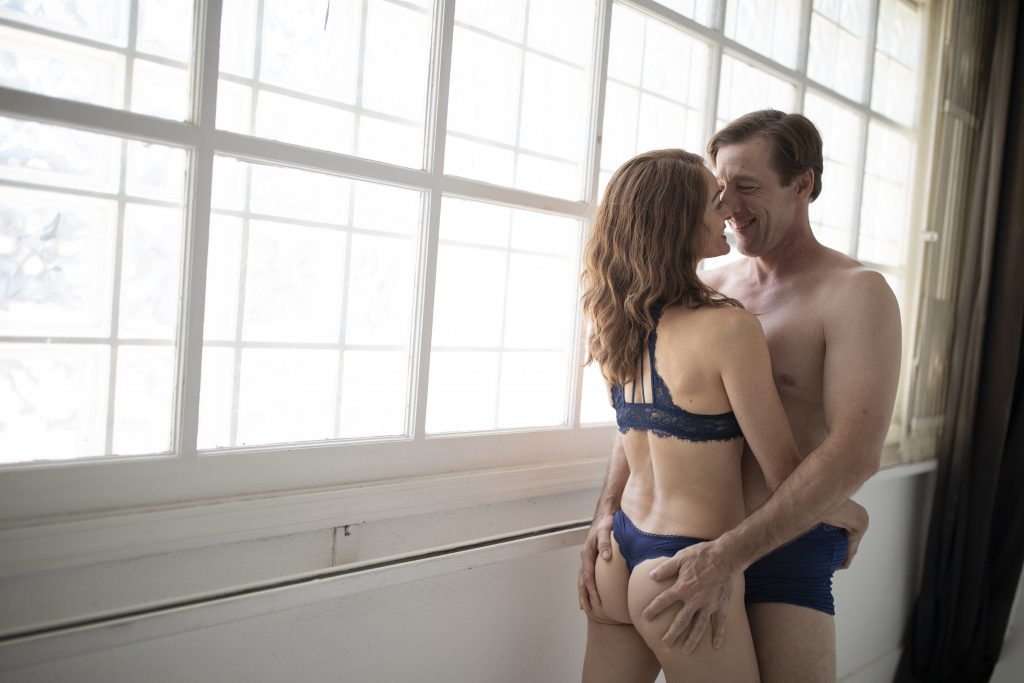 —
Erika is a sex positive people watcher (and writer). Email her at erika@ynotcam.com.