It's always good to have supplementary income, and one potential source can be your social media work. While some platforms really only make you money when you're doing sponsored content, others function more like a blog would, where you can make income from your views thanks to ads on the platform or memberships. The biggest social media platform where this is possible is YouTube.
Unfortunately, YouTube's monetization policy has changed a lot over the years and has left some creators suddenly losing their income. Here's why your account might suddenly not be eligible for monetization and what you should do if you suddenly lose your monetization status.
How YouTube's monetization policy works
There's a pretty long list of what can cause you to lose your monetization status on YouTube. For starters, YouTube needs to appeal to its advertisers by producing "advertiser-friendly content."
Additionally, the content guidelines require that you do not:
Use inappropriate language, written or stated.
Use violence in your videos. This warning goes beyond violence, however, and it also includes "disgusting imagery" which covers "blood, guts, gore, sexual fluids, human or animal waste, crime scene or accident photos."
Display adult content. This includes sexually explicit content, sexually suggestive content, and nudity. Basically, if there's any suggestion of sex, it can't be monetized. In fact, even by simply displaying nude art, even when it's not sexualized, your account can be demonetized.
Show or advocate for harmful or dangerous acts. This would include sexually unwanted acts, including any form of groping.
Use any hateful images or language.
Produce any incendiary or demeaning content.
Demonstrate or advocate for drug use.
Demonstrate or advocate for tobacco use of any kind.
Demonstrate or advocate for firearm use.
Discuss controversial or sensitive topics. You cannot show or discuss child abuse, pedophilia, child marriage, sexual abuse, sexual harassment, self-harm, suicide, eating disorders, domestic abuse, abortion, bullying, acts that can or have resulted in the loss of human lives, armed conflicts, death, global health crises, tragic events, and terrorist acts. If you want to spread awareness on any of these topics, unfortunately, you will be looking at demonetization.
Include adult content for a general audience. This means that, if your channel can be accessed by all viewers, including younger viewers, you cannot display or discuss sex, vulgarity, violence, and "other depictions of children or popular children's characters, that are unsuitable for a general audience." So no evil, violent Elmos.
This "no monetization" list is not exhaustive. It's simply the "advertiser-friendly" content guidelines. Google, YouTube's parent company has its own set of rules that you must adhere to too if you're trying to take part in Google's AdSense program.
There is some overlap with the advertiser friendly guidelines, but here's where they differ. With Google's publisher policies, you cannot:
Promote or display illegal activity.
Engage in or promote intellectual property abuse.
Attempt to sell or acquire endangered species through your channel.
Promote information with the intent to mislead others or promote attempting to gain unauthorized access to software or websites.
Attempt to misrepresent yourself or promote deceptive claims.
Promote anything that contains malware.
Facilitate in the selling or acquisition of mail order brides.
But we're not done just yet. You also need to adhere to YouTube's own community guidelines. There's a lot of overlap between this list and the previous lists, so here's where this one differs.
You cannot:
Engage in spam. This means that you cannot spam YouTube with videos that try to get users to click offsite to places that may have a negative impact.
Engage in pyramid or get-rich-quick schemes.
Manipulate your content to attempt to show something else or to convince viewers that your video is something it is not.
Attempt to suppress voters or census participation or make false claims about a candidate for a political office's eligibility.
Attempt to get your viewers to engage in certain actions to boost their metrics, such as by promoting "Sub4Sub" in which you subscribe to them if they subscribe to you.
Spam other YouTubers' comment sections.
Live stream content that is either not yours or does not adhere to the rest of the content guidelines.
Did you get all that?!
So, if you adhere to all of this, can you monetize your channel?
Not quite. Even if you stick to this long list of guidelines, you need to have two more things: 1,000 subscribers and 4,000 public watch hours in the last twelve months.
In order to check your status, go to your Creator Studio, then, under Channel, go to Status and Features. In the box that says Monetization, it'll say if you're eligible or not, but then, if you click Enable, you'll go to a page that tells you your subscriber and hours watched count. If those meters aren't full, you're not eligible, but you can ask to be notified when you are.
After you become eligible, though, YouTube will still have to go through your account and see if you stick to all the content guidelines. If you don't, you will lose eligibility.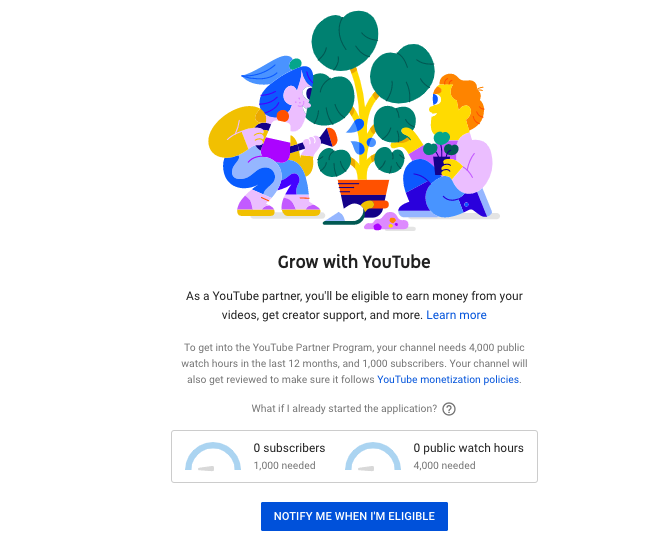 What happens if you lose eligibility or if you break the guidelines after you're approved?
If you've lost eligibility, you'll have to remove any offending content and apply again in thirty days. And if you lose monetization after you've been approved? Severe violations may result in having it permanently disabled. But, if you have a community guideline strike, go through and check to see if you actually did break the community guidelines. If you don't believe you did, you can appeal by going to the Dashboard in your YouTube Studio, selecting the Channel violations card, and then hitting Appeal.
If you do think you broke the rules, then that the strike on your account still stands. When you break the guidelines the first time, it's actually just a warning. You'll get a message through email, your notifications, and in your channel settings, which will tell you what was removed, what it violated, how it will affect your channel, and what to do next.
If you break the rules a second time, you'll get your first strike and then so on until your third strike, which would result in your channel being removed from the platform altogether. These strikes disappear within 90 days of them being issued, sort of like a probationary period. You will likely lose monetization long before your final strike, however, as you would have to be posting offending content for you to reach that point. If you lost monetization and can't appeal your strikes, YouTube may reinstate monetization if you've managed to not get any other strikes in a three month period.
Sheesh!
—
JackieMichele is writer and marketer living in the San Francisco Bay Area. Her work has appeared on Yahoo, Food and Wine and the Huffington Post. She's been an editor, an influencer strategist and ghostwriter, a librarian and a teacher. Follow her Instagram at @jackie_gualtieri and contact her via jackie@ynotcam.com.
Background header image via Pixabay here. Screengrab by the author.