Bonni B. Good has been working in the adult industry for four years.  She and her partner Tripp Empire are in their thirties, they live in Colorado and they have been together for eleven years.
"We went to the same high school, college and yoga school," Good shared.
How is this even possible?!
Quite the pair, Good used to work for NASA while Empire toured as the bassist and lead singer in a punk band.
Again, how is this even possible?
Bonni B. Good and Tripp Empire are, individually, rare and unique and interesting. Together, they share a passion for love, sex and travel that is equally interesting. Read on to learn more about using online sex work as a sort of global ambassadors' tool — and also, perhaps even more relevant, how to work and live as a couple online.
Author's note: This interview was completed about one month ago, prior to the global COVID-19 crisis reaching current levels. There is much to be inspired by in this interview, however please consider the timeframe during which it was completed and published. 
—
YNOT Cam: After so many years together, how did you guys evolve to be a cam couple?
Bonni B. Good: We got into camming when I was house sitting in Costa Rica and Tripp was guiding across the country, two weeks on/two weeks off. We were living off a very low monthly stipend, and I wanted to contribute to our finances. I was watching this beautiful house, super far away from everything, with no car or moto.
We had discussed camming as a couple before, but during my first two weeks alone there I did a ton of research and decided to take the plunge.
Tripp is always super supportive of all my ideas, he's a rockstar. He could also see how much my new gig was helping me mentally. I went through a few bad spells of depression down there. I was super isolated, and it was hard not to get stuck in my head. But after I started camming, my customers were my reason to wake up, my friends to chat with, my relief from boredom and my comfort when I was down.
I know it may sound ridiculous, but it's true — depression is such a beast, and it gives zero fucks if you are in a tropical paradise. There's one thing that almost always helps me, and that is connecting with people.
As an added bonus, we used the extra funds to fly to a different place in Central America once a month during Tripp's two weeks off, which was amazing! Tripp was open to working with me and never had any qualms with it. We started camming together while we were traveling in hostels throughout Central America and found a nice niche as a couple.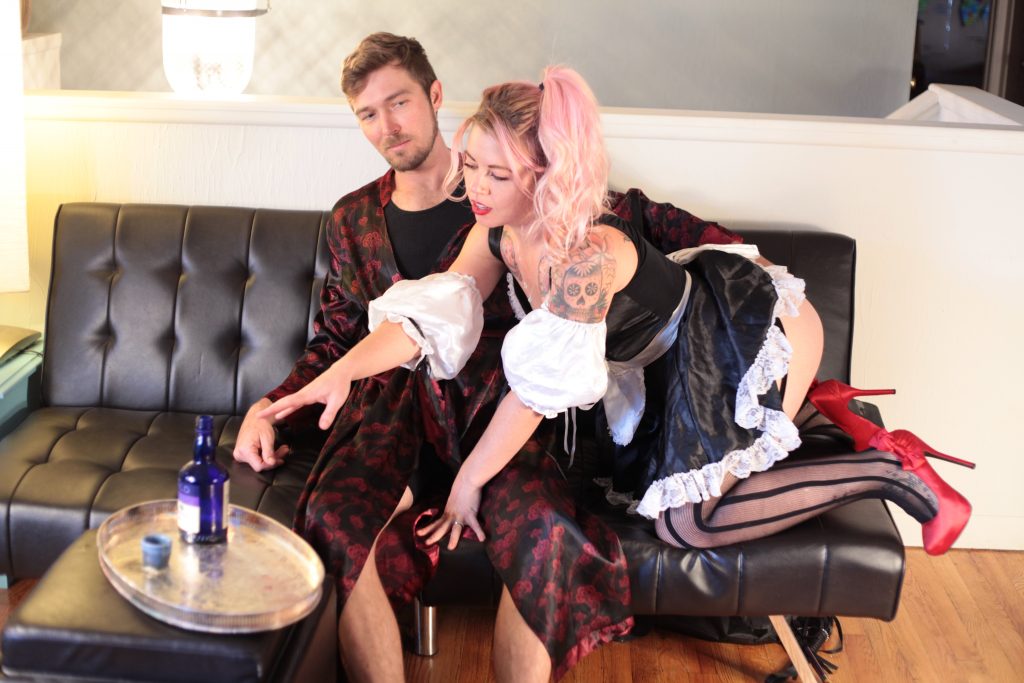 That's amazing! But y'all are back in the US now, correct?
Yes — after a year, we moved back to the States into a place in the mountains with terrible internet. I quit camming and got a 9-5 at a nonprofit for a few years.
Last summer, we decided to both quit our jobs, move out of the mountains and go full time into the adult industry! We had maxed out our potential at our jobs and wanted to enter a line of work where we had more control over our day-to-day and future goals.
It was a great decision, and though it's been extremely hard work, the flexibility that this line of work affords us is exactly what we need right now.
What are some of the best things about working online? What about challenges?
I love that I can set my own schedule. That is really important to me because it allows me to put my family's mental and physical health first. If I need to hit up a meeting or go see a therapist or a doctor or just spend some extra time talking things through with Tripp, I don't need to worry about begging for time off or coming up with excuses. I just do what I need to do and arrange my own schedule accordingly.
Also, it just feels So fReAKiNG GrEAt to be living my life and not spending eighty percent of my week sleeping or working for someone else.
That being said, staying strict with my daily work grind can be very challenging! I feel like I am still finding my flow, but I think I'm getting close now. We are finding what works, what doesn't, what we like and what we want to move focus from. It takes time.
Especially in terms of being a couple that works together, how do you balance work time with non-work time?
Honestly, I am terrible at this! I like to hustle all the time between all my gigs — I also do Rover, sell vintage clothes online and volunteer at some local organizations — and then save up for travel! That's when I can really relax and take some time to decompress.
Tripp is a good influence luckily and encourages me to take time off occasionally to go camping, biking or just relax and play some video games. He is a good grounding balance to my unreasonable tendencies.
So this is exciting! Creators on @clips4sale (like me!) can earn %100 commission on purchases made through this link: https://t.co/EfkJO2vmau New clips (Like Squirting Slave Leia) up almost daily! pic.twitter.com/H1YcJzXcOt

— Tripp Empire ?➕??? (@tripp_empire) April 1, 2020
How does doing intimate work balance with maintaining human intimacy in an IRL relationship? 
I feel like sex work has really added an element of fun and improved our sexual relationship. We have been together for eleven years and have always had a really awesome sex life — super vanilla, but totally delicious and satisfying.
This line of work has pushed us to try new things and think about sex a little differently sometimes, which has been really fun! No matter what we are doing, we make sure we are both on board and enjoying ourselves on some level, even if the fetish we are exploring is not our thing. We also make sure to have plenty of off cam sex, just to make sure we are really connecting and nurturing the intimacy between us.
Any tips for other couples working together online?
My advice is to make sure you have healthy boundaries set and to work with a sex positive therapist regularly. We are always striving to be better, and working together challenges us — but also helps us grow as a couple.
We make sure to spend time apart enjoying different hobbies. We also make sure to spend time with friends and keep our social support structures strong. When we care for ourselves, we show up better for each other.
New Nurse Bonni clip going up tonight! This is the kind of home nurse you need during quarantine ??‍⚕️???? pic.twitter.com/c6WCcpxun8

— ????? ? ???? ? Xbiz ? Cammunity ? (@bonni_b_good) March 22, 2020
One clearly significant aspect of your work/life is exploration through travel, and in our correspondence you mentioned "striving to be a positive bridge between cultures." Can you talk a bit more about what that means to you both?
We actually had a travel blog in our vanilla life, and we just started a new one that is more specific to traveling as a sex worker. It's called "Sexplorers"! We share our travel experiences with the goal of dispelling fears, uniting cultures and promoting peace through global education.
When we travel, we strive to be good ambassadors for our country. We act and dress culturally appropriately. We smile and talk to people. We tip well, help out the needy and try to leave a good impression. We explore places both on and off the beaten track.
So much hatred springs from fear of the unknown. Once you break down these boundaries and say "Hey, I have traveled to these places! It's just another unique and beautiful place with nothing inherently scary or bad about it," you do a little bit to crack open people's minds and break down the fears that can lead to fascism.
This planet consists of huge vibrant countries full of diversity and beauty, and in all countries there are some dangerous places — but overall, when we travel, we are met with much more love than anything else. Most humans want to love and be loved. We have this in common. We are all doing our best, we all want to care for our families.
The sooner we as a planet start focusing on our similarities rather than our differences, the sooner we can drop the BS and move towards ending things like chronic hunger, homelessness and war.
Mark Twain said it better than I ever could: "Travel is fatal to prejudice, bigotry, and narrow-mindedness, and many of our people need it sorely on these accounts. Broad, wholesome, charitable views of men and things cannot be acquired by vegetating in one little corner of the earth all one's lifetime."
We hope to be an inspiration and resource to those who wish to move towards a global lifestyle that unites cultures and promotes positive change.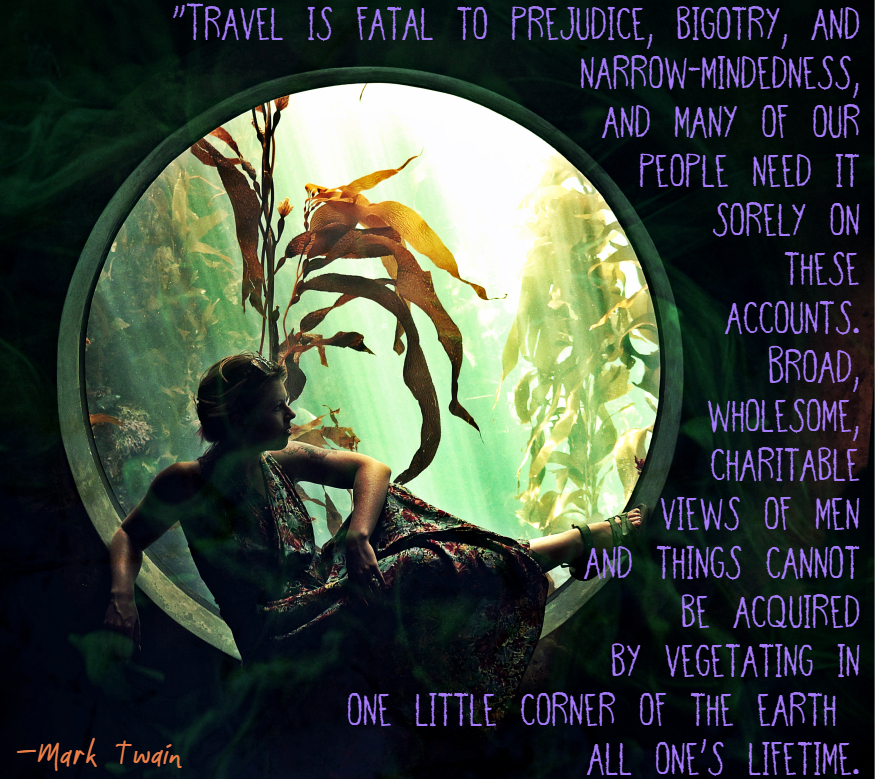 And speaking of travel, you guys went to the LAL Expo in Colombia in February – what was that like?
It was amazing! Definitely one of my favorite shows I have been to. They went all out for everything, the location was beautiful and the city of Cali was absolutely charming. We learned a lot about camming and fan sites that we didn't know. Colombians have it down to an art, somehow they all have perfect asses and as a whole are just super sweet. Colombian models and studios are putting out some killer content, and we are really looking forward to working with some of them in the future.
Outside of work, what are you most passionate about?
Travel, obviously, is one of our biggest passions! Outside of work, I am also an outspoken advocate for human and animal rights. I volunteer at a pay-what-you-can cafe, a really awesome food bank, and we foster kittens from a local cat and kitten rescue.
We use art, yoga and biking to unwind. Tripp is a potter, and most recently I have been focusing on creating large paintings for fundraisers and community projects.
If you could change one thing about today's world, what would it be and why? 
I wish humans evolved with a stronger sense of empathy and a weaker desire for competition. We tend to focus on our differences rather than what we have in common. I wish we could focus on our connections and grow to our full potential! I just have to focus on the progress we are making and try to stay positive and keep fighting the good fight <3
We are going to get to experience some big shifts in our lifetimes, and I am really excited about it!
Find Bonni B. Good on Twitter at @bonni_b_good. Find Tripp Empire on Twitter at @tripp_empire. Check out their Clips4Sale store here.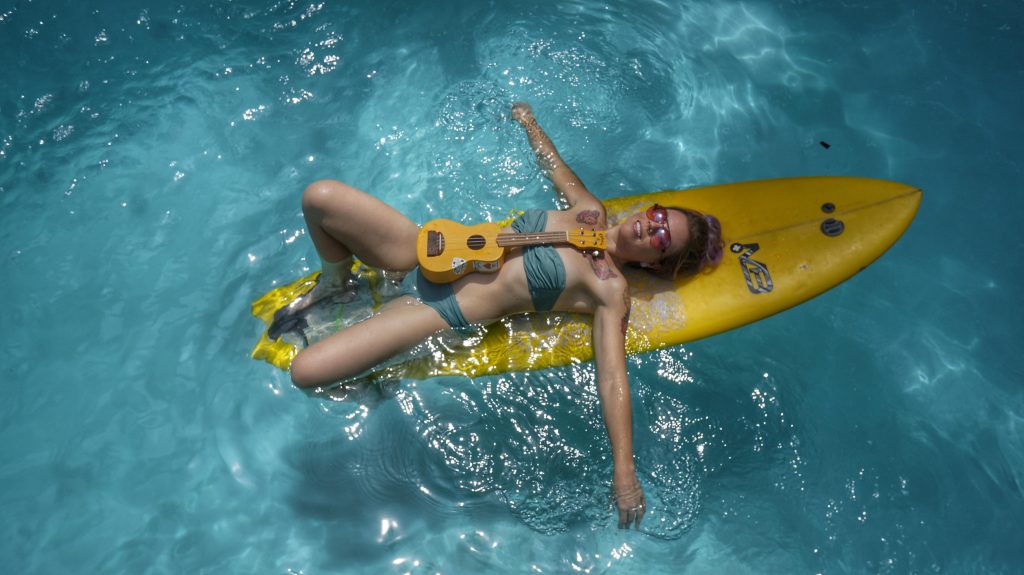 —
Erika is a sex positive people watcher (and writer). Email her at erika@ynotcam.com.