"So when I first started, I spelled my performer name 'Kylie Corrupt,'" Kiley Corrupt shared.
"Then, when I thought about it, I changed the spelling to try to avoid being buried under 'Kylie Jenner' Google results," she continued – thus proving she's a genius with big dreams and goals who possess a level of branding, marketing and general internet awareness that's admirable in general, and downright impressive at the early online modeling stage.
Corrupt was born and raised in Pittsburgh, PA and is "very much so a typical 'yinzer.'"
"I was never the kind of young person that had a plan for my future," she shared. "I had no desire to go to college, so once I graduated and turned eighteen, I got some odd jobs as an alcohol promotions model — a la the Bud Lite girls — go-go and ultimately topless shot serving."
Corrupt eventually got a job working for Girls Gone Wild. "The woman I was working with was a retired mainstream porn star, a redhead," she explained. "I fell for her hard, and she convinced me to quit my job at the pizza shop at the mall to come strip with her."
Things snowballed from there – and from dancing to sex work online, Kiley Corrupt has a lot of wisdom to share.
—
YNOT Cam: What prompted you to begin working in the sex work space?
Kiley Corrupt: Once [I started working in the club], things went from zero to 100 so fast. I started dating a dancer that was older and used to work as a mainstream porn star. She was a tornado of a person and exactly what I didn't need at the time — but you have to learn lessons the hard way sometimes. She definitely used to make more sales at the club, which I did benefit from, but she was also hiding a drug addiction.
Our relationship was coming to an end while we were at a music festival, and she decided to kick me out of the hotel and abandon me there after I finally stood up to her. I managed to get back to Pittsburgh safely thanks to a sugar daddy at the time. Once I got back, she had told the manager at our home club that I was going to beat her up – and, I was going to — so I was fired. It was at that time, I decided to push and keep dancing. I taught myself how to pole dance, bought a pole for my tiny apartment and focused on being a better performer. Eventually, I expanded out to do bachelor parties, then as a paid escort and ultimately offering fetish sessions for private clients.
After some time and moving from club to club, I developed a drinking habit and was starting to feel like something was missing from my life. Then I met the man who has helped me become a better me. We met outside of the strip club, but I was honest with him about my job right away.
I found dating after I broke up with the dancer was hard. People love strippers, but seldom do you find a man who knows how to treat one. He supported my choices, and ultimately we moved to Michigan together. There were no clubs close to where I moved, so I decided to give the vanilla job a chance. I was miserable, but I'm not the kind of person that's confident with computers… I've always known about camming but been intimidated. I have had so many people tell me to cam, and I am kinda bummed out I didn't start sooner — but fuck it, I'm here now!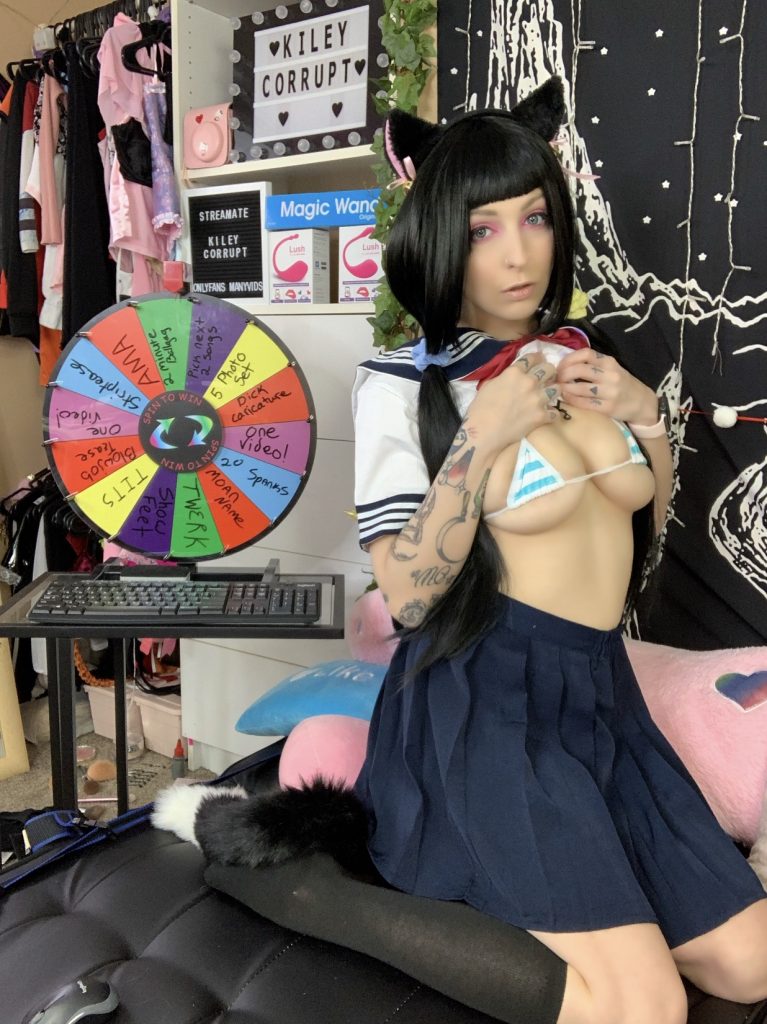 Well, there has to be a cam origin story too – will you share it?! 
Honestly my cam origin story is just as wild as my stripping one. So, I moved back to Pittsburgh after I had some deaths in the family, and I wanted to be close to my mom. While I'm there, I'm working at the mall again feeling lost just like I was ten years prior.
I go on Instagram, and there's this targeted ad for me — "make $20-80 per hour!" It was a "modeling" thing. I took one look at it and said to myself, What is this shady hoe gig and how can I get in on it?
It was a cam studio. I discussed things with my partner, and he explained his feelings and after talking he said to go for it. I was hired on the spot. The manager asked me what I wanted my performer name to be, I tell her, she says that's a good one and I continue to fill out my paperwork.
I come back the next day to find the name I picked is not the name she signed my account up with. Red Flag Number One. She gives me training that was minimal and focused on how to work the site, not what to do in a cam show, which I had literally never seen before. I went on for my first time feeling rushed and exposed, but I wanted to try. (Red Flag Number Two.)
After a month of fifteen hour a week shifts, I decided I liked camming but hated the studio. They didn't keep up on their promises for bonuses and physical prizes for competitions they held separate from Streamate — Red Flag Number Three.
This sounds like such a scam! Like a weird bait and switch..?
It was like the girls were just thrown to the wolves online with barely an idea of what's going on or expected. The manager was a cam girl herself who boasted about making "more than her friends with Master's degrees," yet she talked down about the girls that worked for her while she was live in free chat. I knew this because I was watching tons of camgirls to try to get an idea of what to do and what I was comfortable with.
I decided to quit and work my ass off at my vanilla job to save for equipment. I knew there was a period of time I had to wait between quitting the studio and going independent, so I figured the sooner the better. It was the Christmas season at my retail job, so I took advantage of that. My partner did the same thing and has been buying equipment and filming with me since I started. Slowly my cam room grew — laptop, lights, toys and more. I'm still adding stuff to it to this day. My cam room showcases my personality for sure. It's dark and spooky, yet feminine and cute at the same time.
It was extremely rewarding for me to build this space up over the past year and make it mine. Camming has given me the opportunity to take everything I loved about stripping and bring it to my home. I only do what I am comfortable with, and I get to make a pretty decent living off it. I can support my pets and my family whenever they need it. I also love being able to be my true goof self in my chatroom and be paid for just that.
Sometimes it's my witty comebacks that prompt the tips, and other times it's my otherworldly twerking.
The face // The Jojo pose pic.twitter.com/NeHGv54dN9

— ♥𝙆𝙞𝙡𝙚𝙮 𝘾𝙤𝙧𝙧𝙪𝙥𝙩 ♥ (@KileyCorrupt) July 15, 2020
What are some of the best things about working online?
For me, I think learning how to use the computer properly was a big thing. Editing videos, getting perfect lighting, and all the small things that go into filming the perfect scene are things I was clueless about. I think the quickest way for me to get upset with an outsider looking in at camming is thinking all we do is show our ass then get paid thousands. It's so much time, effort and money that's gone into getting me in front of the camera — and then you have to build up a reputation or individual chemistry with someone to get tips.
I love my regulars because their personalities and likes and dislikes are so vast. There are ones who just want fucktoy Kiley, and others that love my weird ass personality. It's not everyone's thing, but I've found there is definitely clients who want this kind of "realistic" interaction.
I think the best thing about this past year camming is letting myself explore and express myself in ways I didn't even know I needed. I have people tell me being in my cam room is like "watching a good camp host with occasional tit flashes," which I fucking love! I've always been told that I should be a comedian, and the day someone pointed that out in my cam room — "hey this is a dope improv show" — it clicked.
https://t.co/Gh2iNLLjR5 online for my anniversary show 💖 pic.twitter.com/y8TXysr9eF

— ♥𝙆𝙞𝙡𝙚𝙮 𝘾𝙤𝙧𝙧𝙪𝙥𝙩 ♥ (@KileyCorrupt) July 2, 2020
What about challenges?
I let my personality flow now, and at times it's for sure exaggerated — but I love not knowing what's going to happen next, you never know how it's going to be when you log on. This actually can also be a negative thing depending on my mood.
As for challenges, I have gone through three monumental losses since I started camming independently on November 27th 2019 — my grandmother, my cat, and my little sister. All of these losses tore me down more than the last. I can confidently say camming has made the process of dealing with life without them easier. I can work when I feel up to it, I can stop whenever I need a minute to cry it out and I make more money than I did at any other job I had besides stripping.
My sister was one of my only supporters besides my partner when I first started, and I didn't tell many people. I'm still fucked up from losing her, but my cam room is a place where I am in control and I make money for being myself, so it helps. I'm honest with some of my regulars about my personal struggles and the humility that I have seen is certainly unexpected yet unmatched.
I also want to bring up social media briefly because it's a whole different monster — one that I haven't figured out yet! Advertising on Twitter, Instagram and other social media platforms is for sure a great away to get more traffic. I suck at it, but I am trying to improve on that front.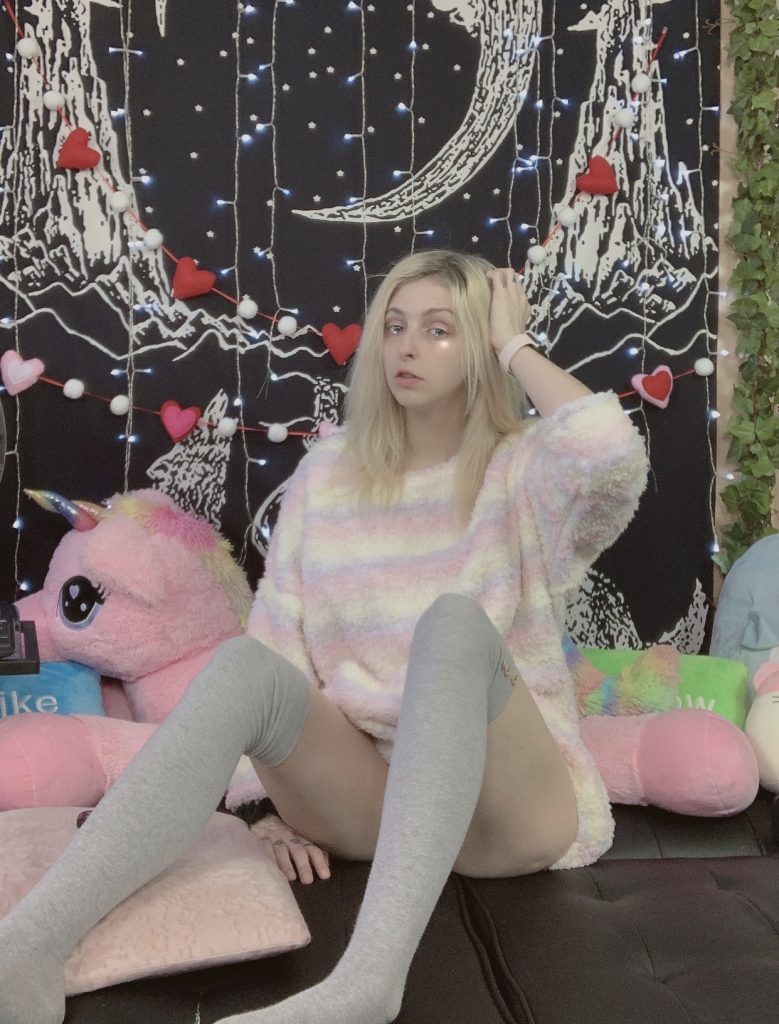 I see you wrote, "I never kink shame! I cater to a plethora of fetishes…" Do you see kink shaming as something a lot of fans and friends deal with?
So like I said earlier, when I got on cam for the first time, I had no clue what I was getting into. One of my first requests in free chat was a request to burp or fart for money, and I was taken back. My first response in my head was eww, but I stopped myself and asked him questions about it instead.
It didn't take long for me to start getting more requests for things that were different — listening to the sounds of my stomach or heart, for example — and my clients would express their joy over the fact that I didn't laugh or say something derogatory when they asked if I catered to their fetishes. It happened enough times to the point where I put it in my profile on Streamate.
It's not surprising how many people already feel shame over their kink because it's not on the radar of your average person. They're already used to being humiliated in person over it sometimes, occasionally enough to the point where they develop a humiliation fetish, so why do it to them yet again — especially when they're on a porn site, ready to pay?
If it's something that isn't breaking the TOS but I just personally don't partake in, I politely decline. No need to dehumanize them, especially not for free! It's very often after an exclusive session I sit and chat with my clients about things, and I have been thanked for my patience and understanding. That feels good to me! I enjoy helping them as much as I like getting money from them.
Outside of work, what are you most interested in?
When I was younger, I used to draw and paint for hours every day. I'd really like to get back into that again. I have a few unfinished paintings.
My pets take up a lot of time and energy so they're definitely something I'm passionate about. I rescue reptiles on a small scale. Currently I have six Ball Pythons, one Boa, one rat snake, one corn snake, one leopard gecko, two chameleons and a turtle! That's 13 reptiles currently, but I have room for more. There's also three rescued cats that are total divas. I've been an animal lover since I could remember.
I also am obsessed with my tarot cards. I've experienced spooky, unexplainable things for years and after being lead to tarot cards over and over I finally bought my own deck. Once I rescued one of my older snakes, I got the impulse to let him pick cards. So I do that from time to time with him, while I do daily card pulls for myself and occasional readings.
The world needs some magic and wonder to it, so I love my cards and the insight I feel that I get from them. I will say work has really consumed me this past year and im guilty of not taking enough time for myself to pursue my hobbies.
If you could change one thing about today's world, what would it be and why?
If I could change one thing about the world — wow, that is a very Miss America-feeling question! I grew up poor and do not like authority. I think the world is an ugly place right now. Black lives matter. Trans lives matter. We need to be better to our fellow man. We need to have more compassion and empathy for strangers.
I'd also just like to add that I am excited and hopeful for my second year as a camgirl. I hope to become a better known figure in the adult industry like so many other performers that I admire.
I want to buy a house to fill with even more rescues and make even better content! I want things to become safer virus-wise so I can attend my first adult expo! I want the opportunity to meet other camgirls and more people in my industry. I also want to one day make a YouTube with information to help new camgirls or people considering it. I feel like I'm still too new for that, but maybe one day I'll pull the trigger.
Find Kiley Corrupt in Twitter at @kileycorrupt and online right here.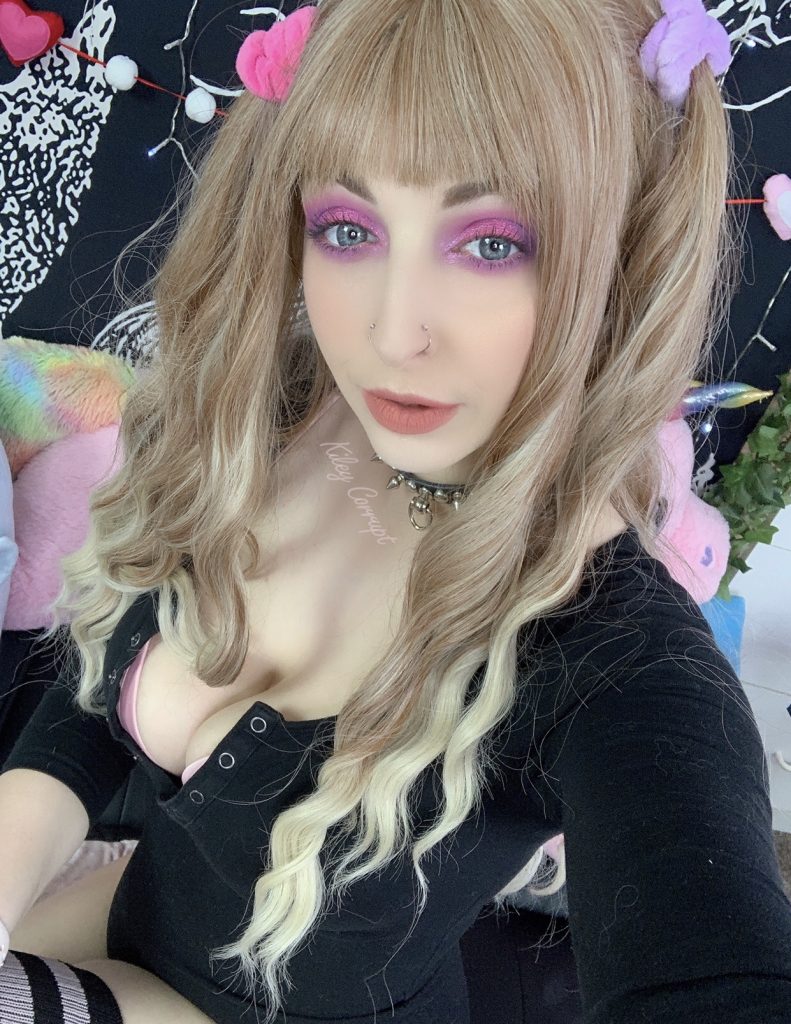 —
Erika is a sex positive people watcher (and writer). Email her at erika@ynotcam.com.