So, this has happened: AP Clips' models, whom they call Creators, now receive the 70% portion of a 70/30 revenue split for earnings generated on the platform. This is down from the 75/25 split AP Clips has offered since the site's foundation.
The "progressive" part is that those who earn $150 or more during a two-week pay period will get 75% of those earnings, and those who earn $800 or more during a two-week pay period will get 80% of those earnings. Note: This policy excludes Fanclub subscriptions, where all Creators get an 80% cut.
"We felt that the Progressive Payout system was a far better and more sensible choice all-around, in that it allows more creators to continue receiving our 75% content-sales payout," AP Clips wrote in a blog post announcement.
So, rather than lower the payout for everyone, they elected to offer Creators ways to receive up to 80% of their sales. Previously unpaid balances will roll over to the next period (as always), and will then be subject to the payout increase if the threshold is reached during the next pay period. For further explanation, read the full official announcement linked above.
They've also added a nifty progress bar as a visual representation of earnings and a table explaining the payout tiers, which are accessible on the Creator dashboard.

AP went live as AmateurPorn.com in 2015. Last year the site transitioned to AP Clips to better suit its evolving brand and diverse array of content creators.
For models, the biggest factor distinguishing AP from other clips sites has always been its generous offer of 75% payout to Creators. In contrast, the general industry standard is that models get 60% of revenue generated. For instance, on token-based cam sites such as MyFreeCams and ManyVids Live, models typically get 50% of each token, and models on ManyVids and Clips4Sale get 60% of video sales. Those sites are still popular among models in part because of their considerable organic traffic. As such, because of the traffic, many people still make more money on places like ManyVids, Clips4Sale, Pornhub and ModelHub than they do on AP Clips.
AP wants models to be more active to bring traffic — hence the increasing payout tiers for "active participants" — but we would be more active if they had more traffic, and so on. Initially, AP's plan was to lower the standard payout percentage to 65%, which was not well-received. This announcement was sent to AP Creators via the Messages feature, posted publicly on the AP Lounge, and Tweeted by @AP_Clips on September 28. You can imagine how content creators were quick to reject this change, as seen in this Twitter thread.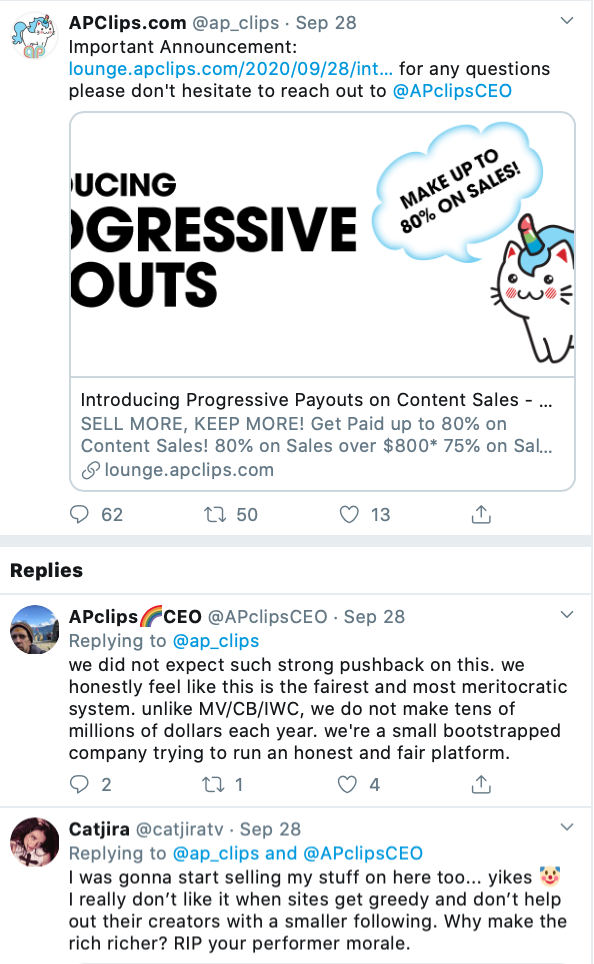 According to the blog post, the adaptation of "Progressive Payouts" was introduced with these goals in mind:
Increase platform fee revenue to help offset AP's rising storage, transcoding and bandwidth costs.
Focus this fee increase, as much as possible, on sellers who are in the marketplace inactively (looking for passive sales only), so that as many active creators as possible can continue to receive our premium 75%+ clips payout.
Attract and encourage creators at all levels to actively promote their AP offerings and bring new fans into the AP marketplace, by rewarding sales performance with progressively higher payouts.
Paying Creators 75% of all revenue generated was unsustainable. AP's CEO and founder, identified as Gavin, cites increasing expenses as motivation for the changes. The site has added new features like the Fanclub, premium messaging and more. These create the need for additional profit to cover bandwidth costs. AP's CEO said that, with Creators' long-term interests in mind, he prefers independence over taking on investors. The natural next step was to take a bigger cut of revenue generated. Even so, they still wanted to give Creators the opportunity to earn more money. AP thought this would further incentivize Creators to actively engage with, and bring traffic to, the site.
So far, it seems to have had the opposite effect and pushed Creators to abandon the platform altogether. Creators lament how difficult it is to make any sales — let alone earn $150 (or $800) in two weeks — on AP. Rather than "rewarding sales performance with progressive higher payouts" or empowering/incentivizing lesser-known and lesser-active Creators, it presents itself as helping the rich get richer. Adding to the injury, personal and economic struggles stemming from the COVID-19 pandemic have impacted sex workers greatly. Struggling too are our customers — the ones who spend money to keep us and our content-sharing sites, in business. We already know it's not easy to make money as adult content creators. Unfortunately it costs money to make money, one might say, and everyone is feeling the hit right now.
Adult businesses like AP Clips often have to jump through more hoops than others in order to host content, buy traffic, pay for site storage, process payments, purchase ads and compensate the AP Team and other contractors. Gavin indicated that all of the extra revenue from AP's increased cut will fund the increasing cost of AWS (meaning "Amazon Web Services," presumably).The CEO was engaging on Twitter following the initial announcement and subsequent backlash. AP later elected to again change the standard payout rate, from 65% to 70%. Gavin also responded to a Tweet with a brief apology for the ordeal, but for some reason that Tweet is no longer available.
In response to feedback, Gavin intended to change the site's payout minimum to $75 (down from $100), which would have taken effect with the October 15 payout. However, early on October 5, the AP Team sent a message to Creators:
"We had hoped to lower our minimum payout requirement to $75 with the launch of AP's new progressive payout system, but due to unforeseen issues relating to our legacy payout/accounting system (upon which the new progressive system is built), payout minimum will remain at the usual $100 until further notice. Humble and sincere apologies to everyone affected by this news. We'll do our best to get these issues resolved so that we can adjust the minimum payout settings in the near future. Thanks for your patience everyone."
Performer Nikki Sequoia inquired whether sales previously made will automatically be subject to the lowered payout percentage, even if they were made when AP paid out 75%. Later in the thread, the AP Clips Twitter operator, a fellow sex worker, agreed that this would be unfair.
Gavin has responded that accounts being closed before the October 15 payout will have an extra 5% added to their payout to make up for the difference, which is great, but what about those of us who are keeping our accounts but have not reached payout? For example, my gross revenue is currently $98. I have generated $98 worth of sales since joining, all of which were made when the rev share was 75/25, not 70/30, but my current payout balance is $69.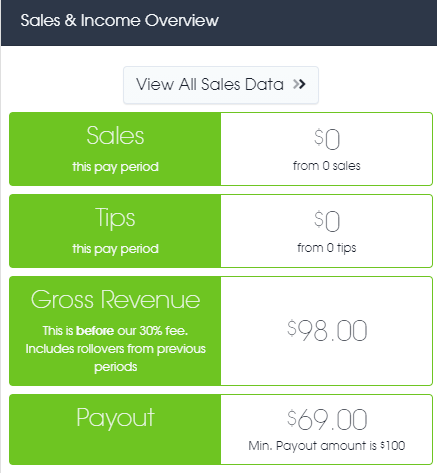 Did I (and Creators in similar situations, sitting on profits too low to get paid) lose those extra dollars made under the 75% payout? Do I have to close my account during this pay period to get paid the $74 previously earned, instead of $69? With the announcement made just a few days before the end of the month, I wouldn't have had time to incentivize buyers to ensure reaching payout before the September pay period ended and the changes took effect  I imagine that other Creators would agree that taking the other 5% of those earnings is not fair, as all of those sales were made under the 75% payout.
On social media, I can see that many others have trouble reaching payout, too — even ones much more active than me. I reached out to AP's media contact for a general statement and further information on this issue, and they have not responded by time of publication.
The AP team had hoped the 75% payout would pull in paying customers, but it hasn't been enough to be sustainable. AP has also put profits towards buying more traffic in hopes of increasing revenue, but Gavin noted that such opportunities are limited for the adult industry and haven't yielded very good results. Could AP cover its rising costs without seemingly punishing less active, lesser earning Creators?
As @MxtressLuna phrased it, "'progressive payouts'" is a fantastic way of saying 'if you earn more you can keep more of it.'" To many of us, it reads more like a punishment for not being able to pull our own traffic to the site, of which some may have very little. Struggling models feel we are being taxed for not keeping up with the exceedingly popular top Creators.
Truthfully, AP has not had significant internal traffic. It can take months or years to reach the payout threshold, as models have pointed out. Some of us have been pricing content slightly cheaper on AP than on other clip sites to entice potential buyers, but it's hard to get customers who are comfortable on another clip site to move. External advertising is increasingly difficult due to soft censorship on social media and some other adult sites prohibit the mention of competitors like AP.
When an AP Creator closes their account, they are automatically pushed to the next payout date and paid in full. If an AP Creator closes their account during this two-week period (payout date: October 15), an extra 5% will be added to compensate for the difference, according to the APClips CEO.
Contact Gavin on Twitter for suggestions and feedback. For questions about payment, contact support@apclips.com.
"progressive payouts" is a fantastic way of saying "if you earn more you can keep more of it"

Fucking shambles. I can't believe they thought this would go over well jesus https://t.co/p4gpDfgGAA

— ☽ Mxtress Luna ☾ they/them (@MxtressLuna) September 28, 2020
—
Alsanna James is a writer, spoonie, gamer and adult content creator. Half silent oracle, half professional sexpot, you can email her at alsanna@ynotcam.com and find her on Twitter at @AlsannaJames.
Screengrabs by the author and YNOT Cam. Background banner image via Pexels here.