Live streaming platform Cherry.tv recently announced that it's currently in its alpha testing phase, with a global launch to follow in early 2021. In its statement, the company said the platform "integrates gamification and social elements to provide the ultimate webcam experience for viewers and performers alike."
"The Cherry.tv team is made up of veterans from the gaming and adult entertainment worlds, who banded together to create the most engaging and innovative platform in the space," the company stated.
Launching at a time when the company says the "supply of adult content seems to be reaching a point of saturation," Cherry.tv is betting on a new approach that "has the potential to revolutionize the industry."
The platform's strategy is to "implement game mechanics that drive engagement and loyalty" and to put streamers' needs front and center – and by doing which Cherry.tv aims to "usher in a new era for X-rated live streaming."
"Cherry.tv seeks to provide a space where models and viewers can interact in a more fun and engaging fashion, creating lasting relationships that translate into high and steady income for our performers," explained Penny de Lima, Head of PR and Social Media for Cherry.tv.
In its statement, the company said Cherry.tv will "offer features no camming website has tried before," listing the following features:
— Level systems that will encourage both models and viewers to be active and engaged on the site. Their efforts will be rewarded with higher revenue shares for performers as well as personalized attention for viewers from their favorite models.
— Daily, weekly and seasonal rankings that will create a fun sense of competition, all while increasing visibility for models' shows and motivating viewers to spend more time and money on the site.
— Tips in the form of virtual gifts that make the interaction between models and their fans a warmer, more personal experience. There are also animated gifts exclusive for VIP members, and seasonal gifts available only for a limited time.
— Daily, weekly and monthly events that will stoke users' competitive spirit while driving traffic to models' shows.
Beyond these functionalities, Cherry.tv said it "aims first and foremost to create a safe and supportive space for models – always taking their needs into account." To achieve this, the platform is giving performers the opportunity to participate in the alpha testing period by providing feedback and insights to the development team to be implemented on the live version of the site.
In exchange, participating models will receive "free publicity from the expert marketing team at Cherry.tv that includes interviews, social media promos, podcast mentions, and more," the company said in its announcement.
Cherry.tv successfully completed the first cycle of its alpha testing phase last week. During this initial round of testing, the platform was opened up to a select group of adult performers to try out and provide their feedback and insights to the development team. The Cherry.tv team is now putting the results into actionable items to be implemented into the platform for future tests.
The alpha testing model team consisted of a group of ten cam performers, including Sabien Demonia, Lorelei Lovelace, Robin Lefay, GoAskAlex and Scarlett Jade. The company said their response to the platform was "overwhelmingly positive, with many of them praising the easy and friendly user interface, the exciting features and tools that will ensure higher retention of users as well as higher spending, and the innovative level systems which were designed to  benefit both models and viewers."
A new round of tests of the Cherry.tv platform is due to begin in the next few weeks. For this new testing cycle, models will be invited to participate again, along with studios and industry experts to try out Cherry.tv and help the team continue to improve the site before its official launch.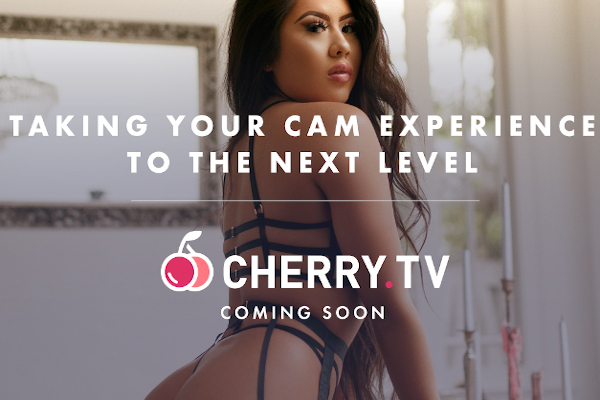 —
Erika is a sex positive people watcher (and writer). Email her at erika@ynotcam.com.
Header image via Pexels here.