It's always good to keep up with Camming Life's Sex Tales — especially considering the podcast's most recent guest!
For the seventh episode of the second season, the show welcomed legendary adult performer, director, best-selling author and "troll slayer" Stormy Daniels for a wide-ranging conversation.
In the new episode, show hosts Lana Del Bae and Melody Kush talk to Daniels about her career in sex work, which has covered the bases from feature dancing and magazine photo shoots to performing in and directing big-budget adult features for Wicked Pictures.
Daniels also talks about her best-selling autobiography, Full Disclosure, her work as a paranormal investigator on her new show Spooky Babes and her unanticipated role in US politics. This, owing to her alleged affair with former President Donald Trump – and the extensive legal actions which have flowed from the same.
"To say we are excited to have Stormy Daniels as a guest on Sex Tales is an understatement," said Shirley Lara, chief operating officer for Chaturbate. "Stormy is a true star, and she has no shortage of fascinating stories about her professional and personal life, and the adult industry too. You don't want to miss a single minute of this episode!"
Now in its second season, Sex Tales hosts offers listeners tips and tricks on sex, adult industry gossip and a unique look at the world of sex work. Every episode features a different guest, which include porn stars, cam stars, social media influencers and other adult industry insiders.
You can check out Stormy Daniels' appearance on Sex Tales on YouTube and SimpleCast.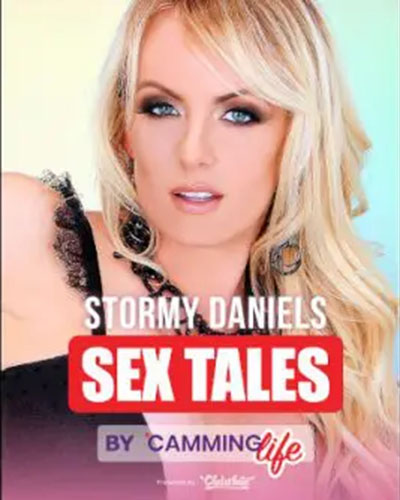 —
Erika is a sex positive people watcher (and writer). Email her at erika@ynotcam.com.