Camming Life, the YouTube channel with 94,000 subscribers offering sex education through the eyes of the camming world, has just launched a new reality game show called AI vs. Pornstar.
In it, Artificial Intelligence – ChatGPT – is pitted against cammers, pornstars, and adult models to determine if a computer knows more about intimacy, seduction, and sex education than they do.
Wait. Can you then really call AI vs. Pornstar a reality show if half the intelligence is artificial?
I'll let you noodle on that conundrum.
Whatever your answer, either way the series is a super fun look at where technology is heading.
The creators said they came up with the concept because everyone is talking about AI Technology, particularly ChatGPT and that the best part of making the show was "finding a fun and fresh way to have a dialogue about sex education."
I think they've succeeded.
In their first episode, cammer Jessica Starling goes head-to-head against the pile of metal answering questions like:
What is the best way to tell someone you want something casual?
How do you overcome anxiety in the bedroom?
What is a great pickup line for approaching a stranger in public?
I won't give away who wins but suffice it to say it really doesn't matter because it's amusing to see what ChatGPT will come up with, and Starling's expressions when he/it? doesn't quite hit the mark.
AI vs. Pornstar's next episode stars cam artist Eva Darling who I interviewed back in September and was crowned YNOT Cam's Cam Star of the Year for 2022. How did Eva fare against the hunk of machinery? Once again you'll have to tune in.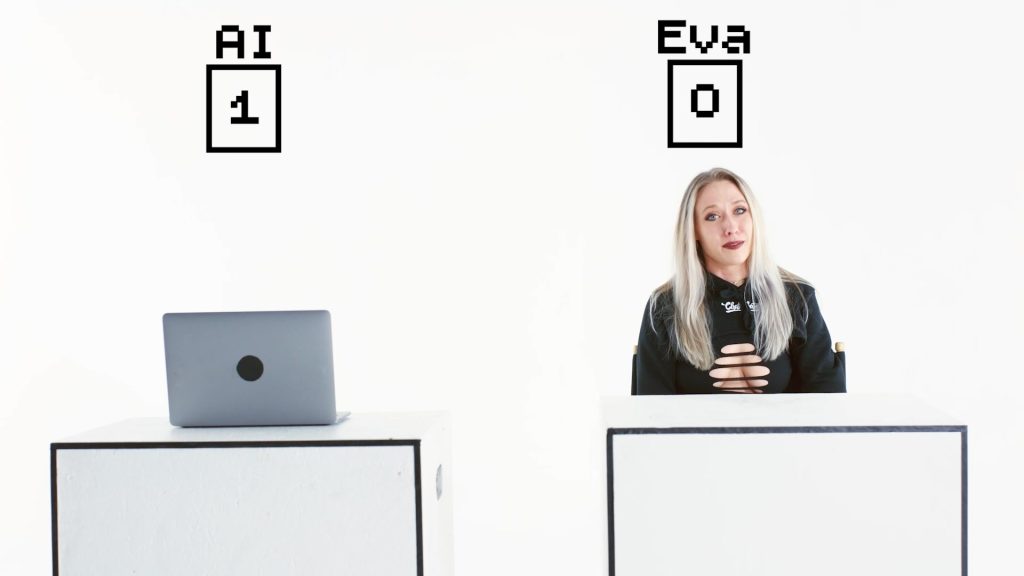 When asked if the new series was all just fun and games the Camming Life Team shared that the show was more than that. "We hope that viewers are both entertained and learn something they can apply to their dating, love, and sex lives. We also like being able to show not only the potential but also limitations of AI when it comes to sex education, and the value of personal first-hand experience."
If you'd like to try your hand at beating ChatGPT follow Camming Life on their social media for updates, comment on their videos and reach out to camminglife@gmail.com to be considered for a spot on the show.
Find Camming Life on their YouTube @camminglife, Instagram @camminglife, and Twitter @CammingLife.
To find out more about Jessica Starling head to her Chaturbate @jessicastarling, Twitter @J3ssicaStarling, and Instagram @jessicastarlingxo and check out Eva Darling on her Chaturbate @pr3ttyp1nkpussy, Twitter @pr3ttyp1nkpuss1, and Instagram @pr3ttyp1nkpuss1.
—
Alyssa Collins hails from Minnesota, where snowy days were the perfect excuse to stay warm inside and write. Over the years, she turned that joy into a career and has authored numerous articles for various publications (under pen names). Email Alyssa via alyssa@ynot.com.