Networking is important, as is making your presence known and letting your voice be heard. Given all that, consider this cool offer from The Phoenix Forum.
The Phoenix Forum (TPF) — happening this month from March 22 – 24 — is a premier educational/networking event for the adult business community. Unlike larger exhibit-style tradeshows, The Phoenix Forum is an exclusive private gathering, offering attendees a more relaxed networking environment. There's a lot of food and fun events, and the desert in the springtime is glorious. This year, for the first time ever, TPF also offering a cam day, CAM U.
CAM U – happening on Friday March 23 – will be packed with seminars and activities designed to help models and B2B people navigate some interesting aspects of life online. With CAM U in mind (and an awareness of how important models are to the community), show organizers and Streamate are offering free entrance for models in 2018!
TPF said: "We are super proud to be able to offer free entrance to the show for active live cam, active onscreen talent and active online performers to The Phoenix Forum."
This offer is only for a limited time and with a limited number of passes though, so you should get yours ASAP.
Go here to request your pass: https://www.thephoenixforum.com/free-badge.html
You might be thinking that this show sounds too business-oriented (read: boring), but don't.
According to The Phoenix Forum organizers: "Performers, talent, broadcasters, actors, stars – whatever your title – you are business people! Our industry is seeing an evolution of empowerment for talent of all interests and a new movement to support the business needs, business savvy and personal business growth of performers as industry pros."
If you are an active live cam performer and you would like to attend The Phoenix Forum, register for your free pass and come. It's really a great time.
Get your free pass to the 2018 Phoenix Forum right here (available for a limited time only). You must register for your free badge in advance of the show starting in order obtain it.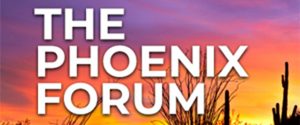 —
Erika is a sex positive people watcher (and writer). Email her at erika@ynotcam.com.
Image via dlritter.