Mistress Kiara is about to turn 31. She's been in the adult industry since 2006 and in the femdom world since 2007. She's lived in Michigan most of her life and is currently calling the great city of Ann Arbor home.
She also runs some of the nichiest of the niche fetish sites around.
"I offer all kinds of sessions and services," Kiara shared. "Live cam, phone, IM sessions, clips, audio only MP3s, picture packs and even offer real time sessions if my clients are willing to travel to me — and prove themselves as not a timewaster or a murderer, of course!"
Mistress Kiara took some time out to share a bit about her nerdy past — "[T]here was a time when I thought that I was going to be making my living off of being a nerd. I wanted to create geeky art and sell it at conventions. Wow, how wrong was I!?" — and about how she's come to dominate dudes online today.
—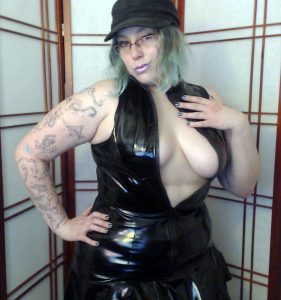 YNOT Cam: What prompted you to begin your career online?
Mistress Kiara: Before I was a model, I had a bunch of odd jobs — barista, waitress, etc. I was a college student for the first few years of my femdom career, so it was hard to want to keep a job like waiting tables when I saw the amount of money men would pay me without even having to take my clothes off!
During my first year of college in 2005, a friend said she was getting into phone sex and asked if I would like to join her. I talked to the head of the company and said to her, "That's not really my thing, but what about domination phone sex?" and it all went from there.
I learned more about the different things I did and didn't enjoy, as well as the names of the fetishes I had enjoyed privately for years. My porn collection exploded when I learned what keywords to search for — It was such a wonderful, eye-opening experience!
But then I got greedy. I saw the amount of money the company was making off of me and said "Fuck that!" I bought a domain name and started my own business. Now I run a similar company for my domme friends who don't have the time or energy to promote for themselves. It's called Pretty Punk Princesses.
Ooh tell us more…
Pretty Punk Princesses has been so much fun over the years. I have introduced so many wonderful women to the world of online domination, and that has been wonderfully empowering.
Unfortunately, many models see online dommes flashing big stacks of cash and posting screenshots of big tributes, and they think that all they need to do is make a Twitter account and tell men to pay them. That, of course, is why so many disappear after less than a year. There is so much more to it than just being bitchy and putting your face out there.
Currently, I am mentoring the lovely Empress Hana, and she is amazing! She has even done some real time sessions with me and one of my subs. I use Pretty Punk Princesses to post our double-domme content and to promote her as well. She and I write blogs, post pictures, film clips together and do live online and real time sessions together for those who contact us through the site.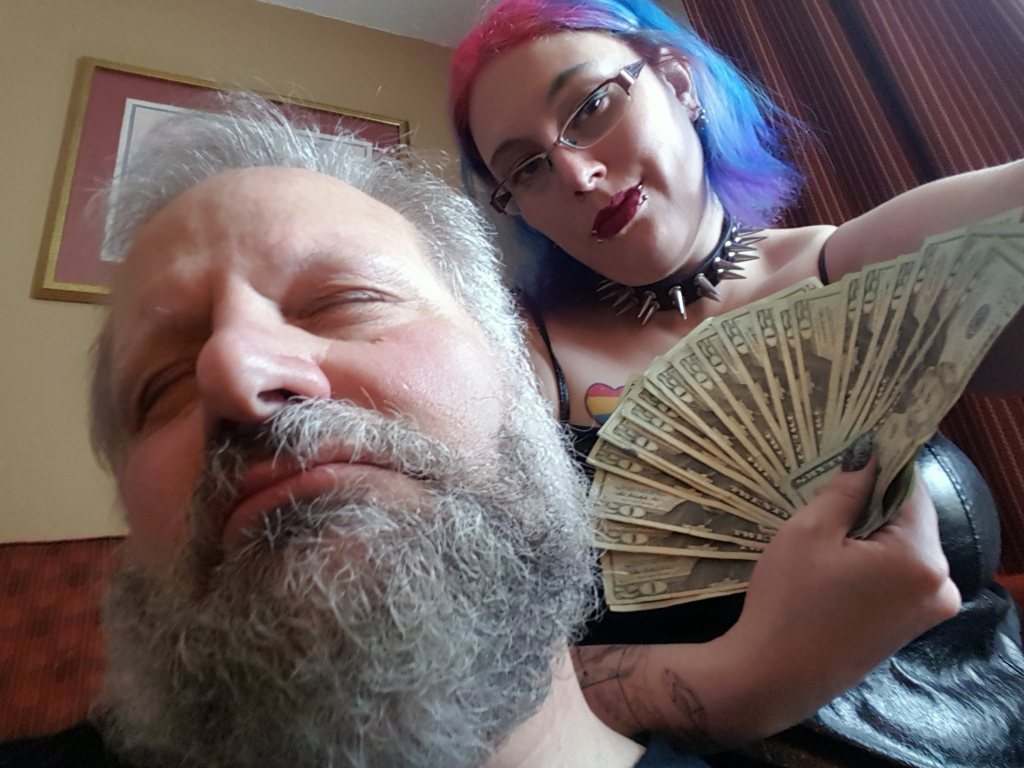 And what about Rate My Tiny Penis?
Rate My Tiny Penis has been one of my biggest successes. I used to have a lot of medical issues, so I would sign up to do things and then disappear and the project would flop. One of those projects was helping a fellow domme run a website about getting guys' dicks rated and humiliated by other mistresses. This was a free service, as well as a way to advertise for the mistresses who offer private sessions involving small penis humiliation.
Unfortunately, when I became sick, the owner of the domain name decided to shelve the project indefinitely. I asked her about it when I got better, but she didn't seem interested, so I decided to move forward on my own with a similar domain name and similar site goal.
Now, I get about 300 to 400 unique hits per day and about 10 to 20 new submissions each day as well. I have over 400 pending posts at this moment, and I post around 10 posts throughout the day. The guys also have the option to send a small fee in order to get posted immediately or to be featured on the front page for a certain amount of time. I have recently implemented a "hall of shame," where the lowest-rated guys each month can be seen in all their… well, "glory" isn't the right word, but you know what I mean.
The best part is, I don't really run the site at all beyond large updates and responding to the posts. I have a good sub by the slave-name of Davros who does it all for me. He's a hard little worker bee, and we're currently working on a ton of new, never before explored website themes together.
Ok one more – Tell us about BlackmailFetish.com
Blackmail Fetish is my favorite form of online domination. I love the power and control it gives me over my online clients.
If you tell someone to complete an assignment but they live in another state, how can you enforce that? You have to find creative ways to do so, and the guys love it. They love the thrill they get from being exposed on my blog and on the slaves page I set up purely for exposure purposes. It's a win-win!
I've uploaded a HOT new video to kinkbomb – check it out puppet! #financialdomination https://t.co/gE3aDoZ3UV pic.twitter.com/1rZZAmD38P

— Mistress Kiara (@DominaKiara) March 7, 2018
Outside of work, what are you most passionate about?
So many things! Because of what I do, I get to set my own schedule. I get to do what I want when I want to a certain degree. That leaves me so much time for what I really enjoy! I love my pets. I currently have a cat and two snakes. I love to adopt special needs cats because I feel that I have the necessary amount of time available to care for them the way that they need. They might otherwise be forgotten, put down or live their lives in cages in shelters. I love my little furbabies!
I also love body modification. I have two large tattoos (sleeves on each arm) as well as about four other smaller tattoos. I also have two piercings in each earlobe, one set of which is gauged, and two lip piercings.
If you could change one thing about today's world, what would it be and why?
I wish everyone could be more genuine with themselves and with everyone else. It would solve so many problems for everyone involved.
Find Mistress Kiara on Twitter at @DominaKiara and online at mistresskiarasdungeon.com.
ANOTHER #ripoff countdown clip. This one better sell TWICE as well, puppets! #spoiled #financialdomination https://t.co/BKHQOmuaIA pic.twitter.com/Ynk7lX6Ued

— Mistress Kiara (@DominaKiara) March 25, 2018
—
Erika is a sex positive people watcher (and writer). Email her at erika@ynotcam.com.
Image via Mark Puplava