Have you checked out the new award-winning web series Cam_Girlfriend?
If you haven't, it's a must see (check it out HERE for free).
Supported by Chaturbate and Canada's Independent Production Fund, the 10-episode series shares the "misadventures" of a camgirl played by actress and real-life cam model, Lily LaBeau (interview with her coming soon!).
Directed by Daniel AM Rosenberg, created by Ethan Cole and written by both, the series won Best Directing for Rosenberg at the Indie Series Festival in May and previously brought home the Web series Canada Spotlight Award from the T.O. Webfest. In addition, the lighthearted romp with a message has had numerous nominations from writing, to acting, to best comedy from festivals across the nation.
Read on for a behind-the-scenes scoop from Daniel AM Rosenberg and Ethan Cole on how this ode to Cam Models everywhere came to life.
What are your backgrounds?
Daniel AM Rosenberg: I'm from Toronto, Canada and went to school in Montreal, Quebec at Concordia University. I've been working in the Canadian Film and Television industry ever since. I got my start directing music videos and commercials, and then moved into directing scripted comedy. I definitely have a love of comedy but enjoy darker themes and science fiction as well.
Ethan Cole: I'm from Toronto, Canada as well. I did my undergrad at Western University in History, and my master's at the University of Cambridge in International Relations. I then worked as a copywriter for a few years before moving into creating and writing comedy. I have a love for making fun situational comedies with a teaspoon of social commentary.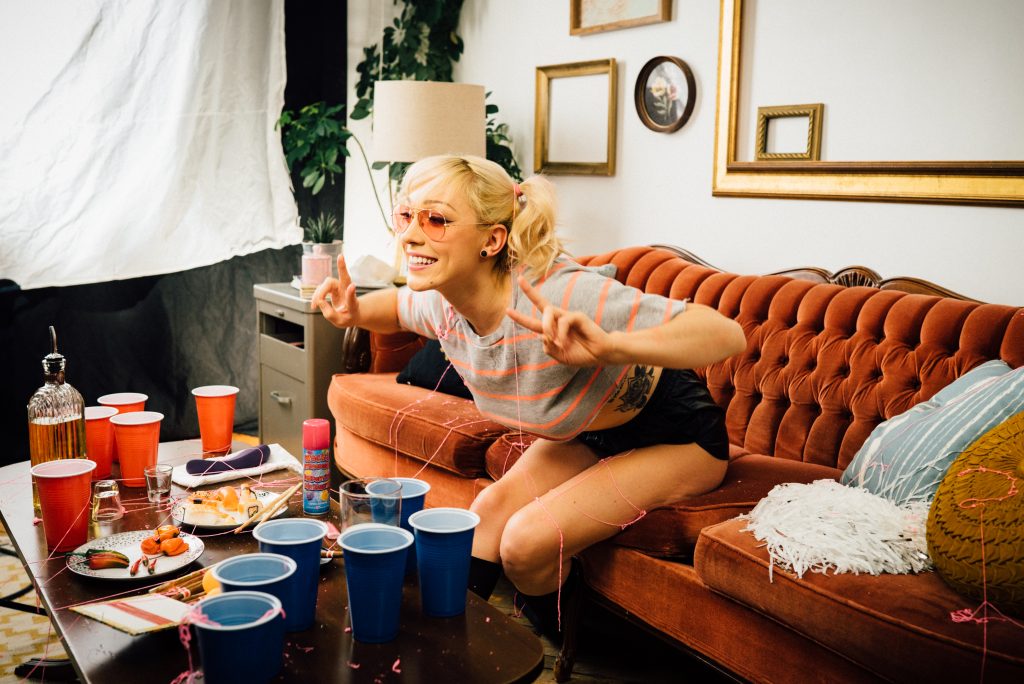 How did you come up with the idea? And why did you choose to do a series about Camming?
We came up with the idea spontaneously during a brainstorm session, when one of us off the cuff mentioned Camming. We felt the Camming space was the perfect setting for a situational comedy. At a time when so many of our relationships are fostered online, we realized that a show about Camming could be relatable and capture the ethos of what it's like to be alive in the digital age.
What do you want your audience to come away with from the series?
For those who don't know about Camming we want them to come away with some insight into the space. Obviously, these are some wild situations Chole and Mike find themselves in, but ultimately, they are inspired by real experiences and stories from Cam Models like Lily LaBeau, who played Chloe and acted as a story consultant on the show. For everyone, we want them to laugh and enjoy themselves, and ultimately be transported into this couple's life, and to escape for a little while.
What were some of the obstacles you faced in getting this series filmed and cast?
Financing a series like this is always a challenge, but we were extremely fortunate to have partners like Chaturbate and The Independent Production Fund (IPF). We want to make the best series possible, and that costs money, so making every dollar count is a challenge, and something we are always navigating. In terms of casting, we were extremely lucky to get to work with Lily, she brought an authenticity and expertise to the role, that was so important. Then bringing Dave Keystone on to play Mike, who has a lot of on-camera comedy and improv experience really helped. We also wanted to surround them with a talented and witty cast, that could also excel in this production format, which was a bit of an improv / scripted – hybrid.
What is your biggest hope for the series?
Our biggest hope is that people continue to watch and enjoy the series. At the end of the day, we made this series for people to enjoy it, and we hope that it continues to reach new audiences.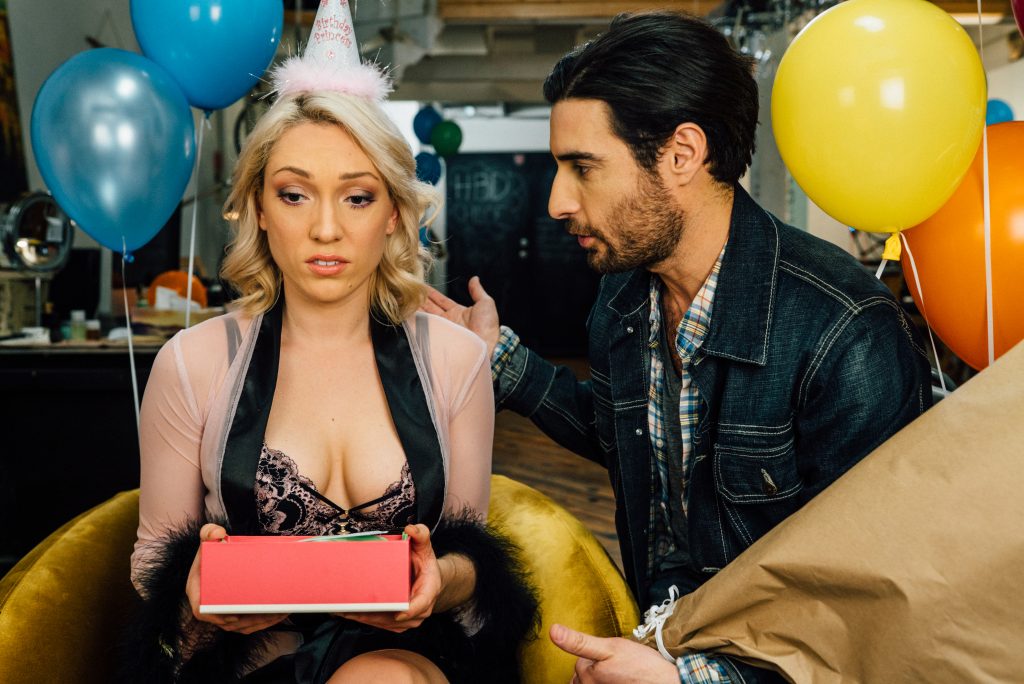 What themes does Cam_Girlfriend tackle?
The show examines how we often reveal more of ourselves online than we do offline and the effect this has on relationships.
There's never been a time where sex and technology have been more inextricably linked. The Internet has made it easier than ever to look for love, but as complicated as ever to find it. What was intended to simplify and streamline love has actually made it more convoluted and elusive. Can we still find deep and meaningful relationships when the Internet is selling us a simulated version of them? That's the universal question at the heart of Cam_Girlfriend.
Tell us about your best day on set and your worst day?
Best day on set was when we filmed The Registry episode (EP1). We were filming in an old house with some fantastic architecture, and we had two new actors working with Lily and Dave. It was one of those combinations where the performance was great, the improv was spot-on, it looked fantastic, and everyone was clicking. It was also the last day we filmed, so in many ways it was also the worst, because after that it ended, and we called wrap on the whole series. The other worst day was when we were filming most of The Ride (EP6) episode because it was -10 degrees Celsius shooting outside in Toronto – but we're pretty used to that.
What has it been like working with Chaturbate as a sponsor?
It's been an absolute pleasure working with Chaturbate. We couldn't ask for a better sponsor. They were extremely supportive throughout the entire process, providing any resources we needed. And as creatives we really appreciated that they completely trusted our vision. We couldn't have made this show without them.
Why should people outside the industry watch this series?
It introduces them to a new world that still feels familiar and relatable… and if they're in the mood to laugh, it's definitely worth a watch!
Where to from here?
Season 2 is in pre-production!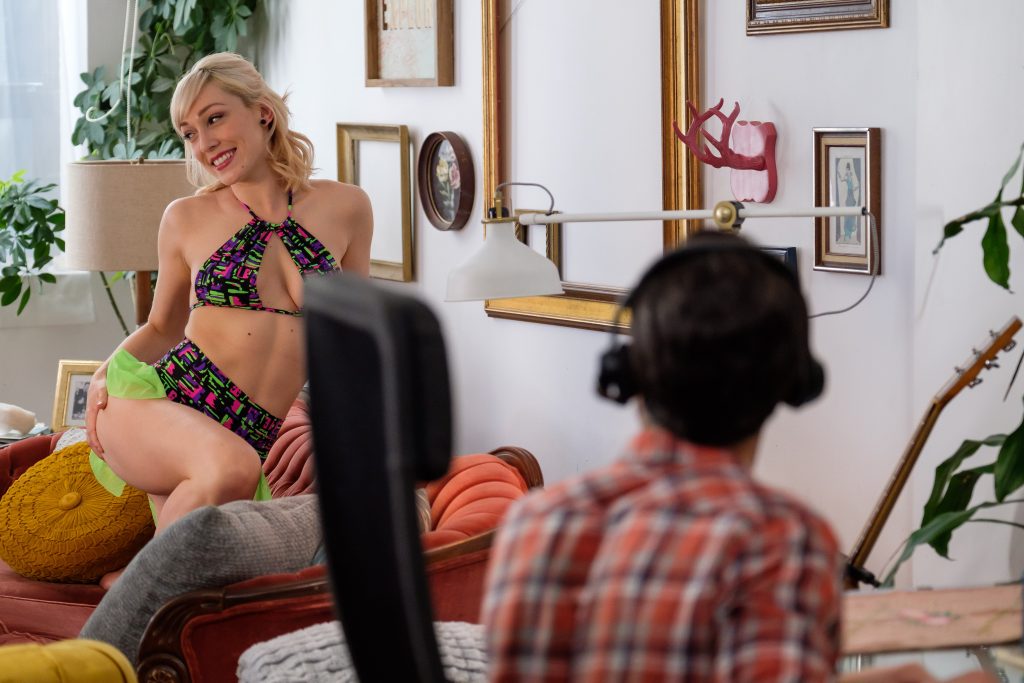 —
Alyssa Collins hails from Minnesota, where snowy days were the perfect excuse to stay warm inside and write. Over the years, she turned that joy into a career and has authored numerous articles for various publications (under pen names). Email Alyssa via alyssa@ynot.com.