On the morning of May 25, @ChewyGingerK's Chaturbate broadcast was interrupted. She then tweeted a photo of a direct message from a Chaturbate administrator.
The message read: "We hope this finds you well. Please be aware that crying on cam is not allowed. If you have any questions feel free to email us at Support@chaturbate.com."
Dear Model… We hope this finds you well. Stop crying. 
Have you ever cried on cam, for any reason? Or had to take a cry break? Maybe you received a big tip that made you cry tears of joy, or cried laughing, or reached a big goal. Maybe a viewer with a fetish asked you to cry. Maybe you were struggling or having a bad day. Maybe a viewer was being an asshole in your chatroom.
Whatever the reason, it's not rare for cam models to shed tears while streaming. Cam models are people who feel emotions. So why should they be barred from expressing them?
At present, Chaturbate's Terms & Conditions do not explicitly prohibit or even mention crying. Crying could however demonstrate distress or pain of some sort, and this might technically fall under Chaturbate's Prohibited Conduct (Section 5-k of Terms): "Illegal or unsafe activities of any kind, including violence, blood, torture, pain, erotic asphyxiation, fisting, rape themes, or any actions associated with bringing harm to you, in any way, are prohibited."
Crying might be associated with bringing harm to the broadcaster. Chaturbate's terms do not specify what kind of pain or harm or what exactly falls under their umbrella of "unsafe." Prohibition of violent, illegal or unsafe activities isn't an uncommon rule for adult, live streaming or video sharing sites to have.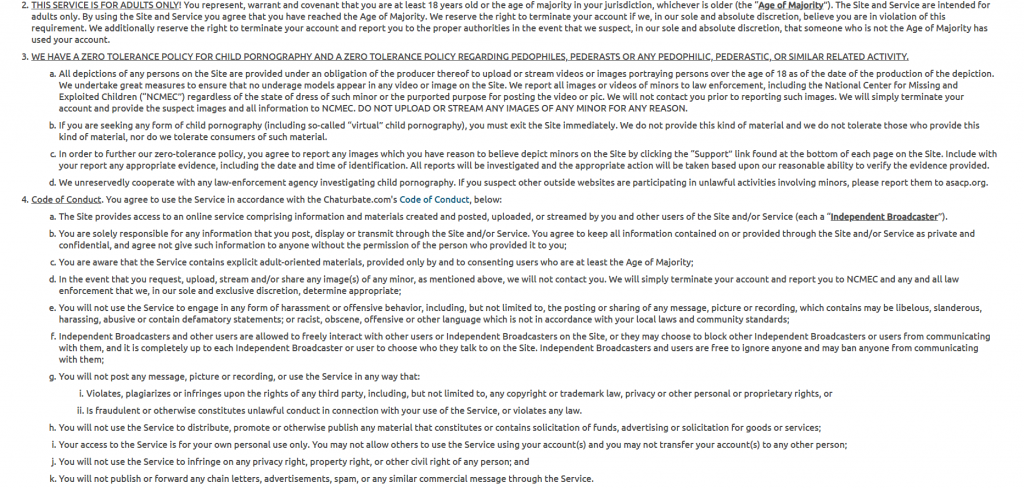 Pictured: Chaturbate's Terms & Conditions, "Prohibited Conduct." Screenshots by the author taken at 1pm CST on May 27, 2019.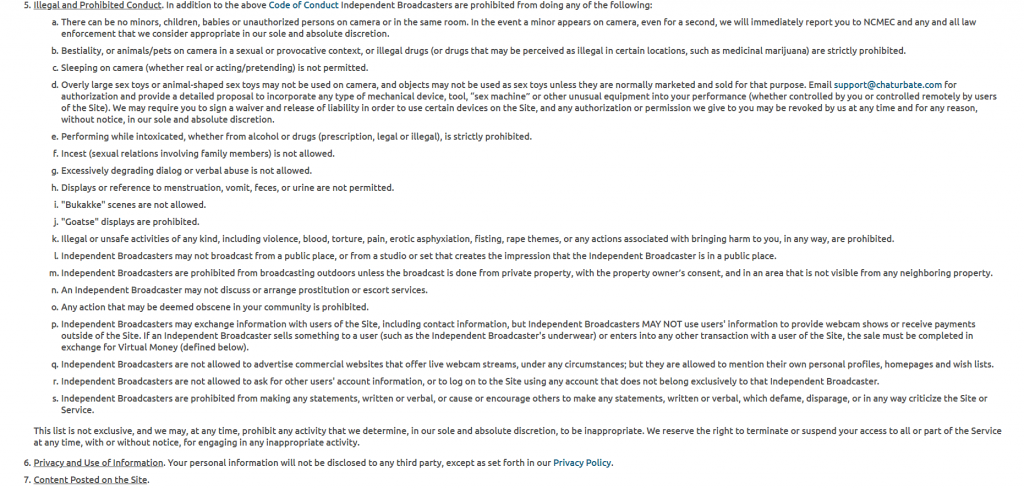 Of course, Chaturbate also expresses that their list of rules isn't comprehensive. As with any site that hosts user-generated content, they give themselves the right to target anything streamers do that they deem inappropriate: "This list is not exclusive, and we may, at any time, prohibit any activity that we determine, in our sole and absolute discretion, to be inappropriate."
This type of statement is standard for internet companies to cover all possible bases. Chaturbate is not unique for this. Chaturbate has no formal/legal obligation to update their terms to clarify their policy on crying — though it would certainly be nice of them to do so.
Chaturbate responded to this discussion on multiple platforms the afternoon of May 28. In any case, they emphasize that intervention is due to concern for the broadcaster's safety. Chaturbate has publicly apologized to the model on Twitter, admitting that the site admin's message (see above) did not adequately convey concern.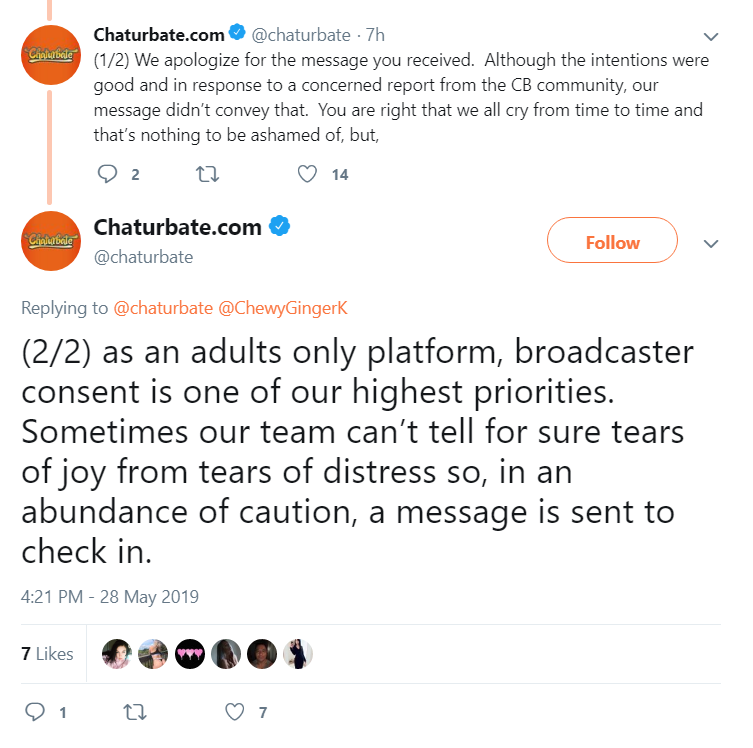 Here, in their tweet to @ChewyGingerK, they imply that a Chaturbate admin sent this "warning" because they received a "concerned report" from the Chaturbate community.
If a model seems to be in distress while streaming, a viewer might choose to bring it to the attention of the Chaturbate support team, who will then send a message to the broadcaster. In response to a post on AmberCutie's forum (ACF, pictured below), a Chaturbate representative said that the site has "reworked" the message it sends to broadcaster in this scenario:

There was Twitter speculation that this enforcement of an unwritten rule against crying stems from concerns about models being forced to broadcast, which Chaturbate later confirmed.
Another reason for (some) rules that strike us as weird might be pressure from a site's payment processor(s). In other words, it might not be all Chaturbate's fault that you aren't allowed to cry sad tears, choke or fist yourself on cam. You do not want to piss off the company that handles your money.
Chris from the payment processing company Paxum — one of Chaturbate's methods of paying its contractors — said it is possible that rules against crying on cam stems from processor regulations: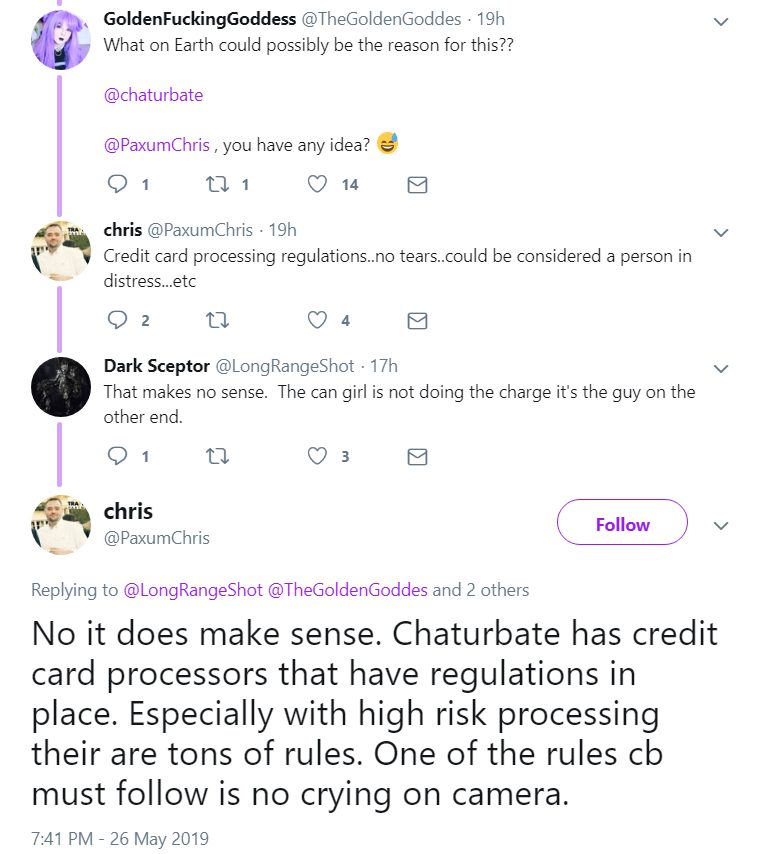 There is more to be said about the commercial implications of risk and how payment is tricky for industries like ours, which is considered "high-risk."
Basically, payment processing is harder for industries and companies that are labeled high-risk, which includes adult/cam/porn sites. Payment processing companies also do not want to do business with platforms that host contractors who are being forced to work.
Think of it this way: Crying on cam could be taken as a sign that a person is working under duress. Hosting a forced worker could get Chaturbate into trouble with their payment processor, as well as with the law, which jeopardizes the business of the site and all of its contractors. A payment processor enabling commercial transactions for forced or trafficked sex workers, even if the work itself, such as camming, is legal, gets in trouble with the law. That jeopardizes not only the payment processing company but all of the other companies it processes money for, which puts the entire cammunity at risk.
This is part of why Chaturbate would enforce such a policy. If you cry on cam and site admins notice, they have to make sure you're okay. In this instance, they went about it poorly, but Chaturbate has since apologized and supposedly revised their "check-in" message for similar situations in the future.
It is unclear whether Chaturbate or its payment processors allow crying when it's reasonably understood that it's for a happy reason or in the case of a consensual cry done on purpose, such as in response to a tipper request or in a crying fetish video. Chaturbate has not explicitly clarified whether role-playing, crying fetish requests, or crying videos are allowed on the site. On the basis of their public responses on Twitter and ACF, however, it seems that Chaturbate takes this case by case.
I speculate that videos and tipper requests involving crying should be acceptable (as long as no other rules are violated) because, in these scenarios, consent is usually pretty clear. In their ACF comment, the Chaturbate rep said the site admins try to discern whether a broadcaster is crying from distress or "just experiencing emotions," which likely includes tears of joy or other positive feelings.
In their Twitter comment, Chaturbate said they can't always tell tears of joy from tears of distress. This seems to indicate that you are allowed to cry tears of joy. Apparently tears of distress aren't allowed, which sounds silly because we're humans who cry sometimes, but consider that Chaturbate's payment processors prohibit this.
In their public responses, Chaturbate emphasizes that they prioritize the consent and safety of their broadcasters. The administrator message sent to this model was all business, devoid of concern, but a Chaturbate rep said (several times in their ACF comment) they have revised this standard message to better convey concern in future cases. If you cry tears of joy on cam, it's unlikely that a viewer will report you out of concern for your welfare if they watched and understood the context of your tears. If you cry on cam and viewers perceive you as distressed, you might get a message from a Chaturbate admin. Hopefully, in the future, this message will be more sympathetic and friendly.
Crying can indicate a vast range of human emotions: sadness, stress, anxiety, anger, surprise, glee, delight, happiness. It's okay to experience these emotions on and off cam.
Check out these self-care articles for cam models and freelancers:
Self-Care for the 'Work From Home' Lifestyle

5 Tips to Pull Yourself Out of Isolation

Staying High During Online Lows
—
Alsanna James is a student, advocate, spoonie, writer, gamer and adult content creator. Half silent oracle, half professional sexpot, you can email her at alsanna@ynotcam.com and find her on Twitter at @AlsannaJames.
Editor's note: The author reached out to Chaturbate for a comment on this issue and received a response referring her to their statement on ACF.
Header image via JJ Jordan from Pexels.